After Jerking Around A Disabled Combat Veteran For Nearly A Decade, PHH Mortgage Plans To Evict Him On Christmas Eve 
Being sick from toxic fumes he didn't know he was inhaling was the last thing disabled combat veteran Kevin Elkins was thinking about while sitting in the Saudi Arabian desert almost 30 years ago.
Elkins was there along with 400,000 other American and Coalition troops to liberate Kuwait. He never thought Operation Desert Storm would make him sick.
After all, there was hardly any fighting. Iraqi troops either fled their posts or surrendered en masse. Kuwait was pretty much liberated within a week.
Kevin Elkins and his wife settled in Houston and bought a home after being honorably discharged from the military. In 2004, they bought their dream house on Bridle Court in Houston, Texas and financed it through the now-defunct First Franklin Financial Corporation.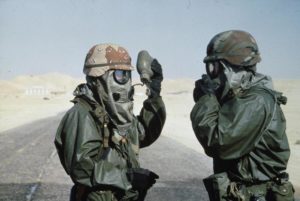 In 2010, Kevin Elkin began suffering respiratory problems that his doctors in Houston couldn't diagnose. Eventually, as Elkin's health deteriorated, the doctors at the VA diagnosed Elkin with what became known as "Gulf War Illness"
During the past 9 years, the servicing of the loan transferred through nearly 5 different mortgage servicers. The mortgage eventually ended up at Ocwen. Ocwen bought the beleaguered PHH Mortgage and changed the name of their servicing arm to PHH. 
During this time, Kevin and his wife attempted to modify the loan multiple times only to have the mortgage switch servicers during the modification application process. This is a common tactic with mortgage servicers who know they have an issue with a file. But, I'll get to that later in this article.
Mortgage servicers told the Elkins not to make a payment each time they applied for the modification. Every time they tried to make a payment, the Ocwen/PHH Mortgage rejected the payments. Again, a common tactic by mortgage servicers. 
PHH Mortgage Appears To Lack Legal Standing To Evict The Disabled Combat Veteran And His Wife
PHH Mortgage sold at Sheriff's Sale this spring. This shocked the Elkins. Ocwen/PHH Mortgage never gave the Elkins notice by tacking a notice to the door as required under Texas law. They only found out when vulture real estate investors started knocking on their door.
The Elkins contacted MFI-Miami after being able to reach anyone with any authority at PHH Mortgage. PHH Mortgage customers get routed to call centers in India. Now the Elkins face eviction this week. It was originally scheduled for Monday. However, the Harris County Sheriff's Office is backed up with holiday evictions. It's now scheduled for Tuesday which is Christmas Eve. 
We requested the file from PHH Mortgage. Unfortunately, we won't have it before the scheduled Christmas Eve eviction.
MFI-Miami staff has already found serious problems with the way this foreclosure was handled. It would also call into question if PHH and FFMLT 2004-FF3 has legal standing to foreclose and evict.
First, one of the many mortgage servicers failed to record an assignment of the Deed of Trust from First Franklin to the FFMLT 2004-FF3 Trust. FFMLT 2004-FF3 Trust is the alleged holder of the note. PHH Mortgage is the current servicer of the loan for FFMLT 2004-FF3. A lender needs to be on the title of the property in order to foreclose. Harris County still shows First Franklin as the lienholder of record. 
Secondly, PHH Mortgage has another problem. Also, a quick perusal of the schedule of loans in the FFMLT 2004-FF3 Trust indicates the loan is not held by them. 
If you want to help keep Elkins in their home for Christmas, contact these two people at Ocwen/PHH Mortgage in New Jersey and tell them our veterans deserve better!
Also, check out these articles:
Is JPMorgan Chase Provoking A "Ruby Ridge" Standoff?
Nationstar Mortgage AKA Mr. Cooper Mortgage Spits On Military Veteran