MFI-Miami Defends Victims In Mortgage Fraud Criminal Defense Cases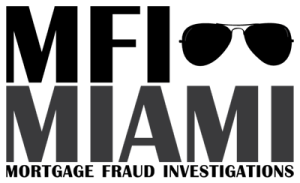 MFI-Miami offers its investigative services and litigation support to attorneys representing clients in mortgage fraud criminal defense and short sale fraud criminal defense cases.
MFI-Miami approaches our mortgage fraud criminal defense cases with the same confidence and zeal as we do with our foreclosure cases. Prosecutors may call this arrogance, MFI-Miami calls it confidence. MFI-Miami approaches each case with confidence because we can. This is because we do our homework and because we help our clients win.
MFI-Miami's Unparalleled 
Expertise
MFI-Miami has access to an army of accountants, former FBI agents, lawyers, mortgage compliance experts, and collateralized debt experts. As a result, this puts our clients in a position to challenge any financial institution in any state or federal courtroom across the U.S.
MFI-Miami staff members have given depositions and testified in foreclosure cases across the United States. MFI-Miami team members have been recognized by the Comptroller of the Currency, the U.S. Department of Justice. As well as receiving special recognition from members of the U.S. House of Representatives. 
MFI-Miami also only works with the best and brightest trial litigators in the nation. As a result, we have the success rate that is in unmatched by our competitors. 
Fighting For Justice From Coast to Coast
MFI-Miami is based out of Deerfield Beach, Florida. MFI-Miami also has offices in New York and Washington, D.C. As a result, this allows MFI-Miami to regularly work with clients and trial attorneys across the U.S.
MFI-Miami has longstanding working relationships with some of the very best and brightest trial lawyers and white collar criminal lawyers in the U.S. Therefore, this allows us use our influence to fight for justice one client at a time.