Deposed Foreclosure King David J. Stern Is Liquidating Assets Including His $32 Million Dollar Waterfront Mansion
Deposed Foreclosure King, David J. Stern and his wife Jeanine have put their waterfront mansion in Fort Lauderdale's Harbor Beach on the market for $32 million.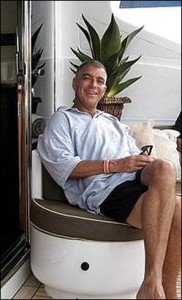 The mansion fit for a foreclosure king who mishandled 118,000 cases. The house includes six bedrooms, seven bathrooms and two half-baths. The home, which is divided into two wings, also features double staircases, a rotunda ceiling and marble and Brazilian walnut floors. Amenities include a home theater, gym, gourmet kitchen, study, five fireplaces, tennis court, cabana and an infinity pool. It was completed in 2007, according to property records.
The corner 60,000-square-foot lot along the Intracoastal is perfect for anyone who has the means. The property also features 505 feet of water frontage which can fit up to a 300-foot megayacht similar to the one Stern was forced to sell after being disbarred.
The Foreclosure King and Queen paid an undisclosed amount for the 17,037-square-foot estate in 2009 at the height of his reign as Foreclosure King according to Broward County records.
Former Foreclosure King David Stern was disbarred by the Florida Supreme Court in 2014 for misconduct and earlier this year, he was slapped with a $2 million lawsuit over unpaid services from a Miami-based process service company. Stern also dumped 120,000 foreclosure cases on the Florida courts in 2010 when homeowners and attorneys began accusing Stern's firm of mishandling files. Stern's action caused a near 24 month backlog in foreclose case on the Florida courts.
The realty group handling the sale of the former foreclosure king's waterfront palace is targeting potential buyers such as wealth managers and is marketing the estate in Asia, California and New England.