You may remember Alex Schaefer, the LA artist who keeps getting hassled by law enforcement and by the subject of most of his art, JPMorgan Chase.  He was the artist who in 20011 grabbed a lot of attention from the LAPD for painting a local Chase Bank branch engulfed in flames that he later sold on Ebay for $25,000.
Schaefer made international headline again last July when JPMorgan Chase had the LAPD Doughnut Squad arrest him for vandalism because he wrote "Crooks", "Crimes" and "Chaos" in chalk on the public sidewalk in front of a branch.  As you can see from this video from the Keiser Report: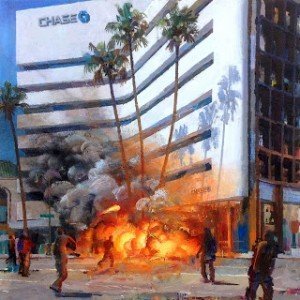 Schaefer's new subject is the Chase branch in posh playground of the rich an famous Beverly Hills and according to his website he surprised by the positive reaction of people walking and driving by,"I painted this on the corner of Wilshire and Beverly in Beverly Hills.  When I painted on location I was surprised that there was a lot of positive response!  Honks, "nice job!", "can I take a picture?"  It was good to know that there is still a sense among the public at large of "I know how you feel"
You can learn more about Alex and his art work at his website  http://alexanderschaefer.blogspot.com.