Massachusetts Housing Courts Reopen Amid Protests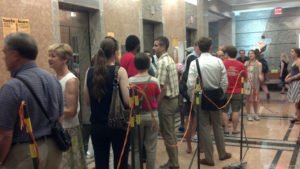 Massachusetts Governor Charlie Baker reopened the Massachusetts Housing Courts. Thus ending the state's foreclosure and eviction moratorium. The courts opened Monday. 
Trial Court Chief Justice Paula Carey said the courts expect anywhere from 25,000 to 200,000 cases in the coming months. Prior to the pandemic, state housing courts averaged about 3,300 cases per month, so that would be a big increase. But just how big remains to be seen.
However, a growing chorus of state and local officials are urging Baker to extend the state's strict ban on evictions.
Massachusetts AG Maura Healey also joined the chorus. Healey told the Boston Globe that Baker's $171 million plan set up to blunt a tsunami of evictions is a good step. However, Baker's program won't be ready in time to help tenants who are currently struggling.
The state has effectively frozen eviction cases since March. The Massachusetts housing courts were initially closed in March. The courts were trying to  prevent the spread of COVID-19. In April, an emergency state law halting nearly all evictions. That measure expired Saturday. Baker instead announced a package of rent relief and new programs. He said should fend off many evictions while allowing the courts to function.