Shaquille O'Neal Selling Shaq-apulco Outside Orlando For $28 Million And Moving To Atlanta
Shaquille O'Neal has the perfect house for you. You must have deep pockets and have the urge to move to the Orlando area. The NBA superstar is saying goodbye his sprawling Shaq-apulco mansion in Windemere. He is selling the mega-mansion for $28 million.
O'Neal bought the property in 1993 when he was a rookie with the Orlando Magic for $4 Million. Shaq-apulco remained O'Neal's primary home for the next 25 years, even as he moved around the NBA.
Shaquille O'Neal works as a basketball analyst for
TNT
. He's selling the supersized 12-bedroom home because he's spending more time in 
Atlanta.
The house is larger than life and audacious.
Built in 1990, the house and its 4 acres are located on the shores of Lake Butler inside Isleworth. Isleworth is a gated golf community a short drive from Orlando.
What Is Inside Shaquille O'Neal's

Shaq-

apulco
The front doors open to a two-story foyer with double princess staircases with a formal dining room off the foyer. This to accommodate O'Neal is 7-foot with a 1, 325-pound frame. As a result, the furniture is oversized to accommodate his size.
Just beyond the double staircases is a 1,170 square foot great room. It has a two-story stone fireplace and a bank of large windows that overlook the lake.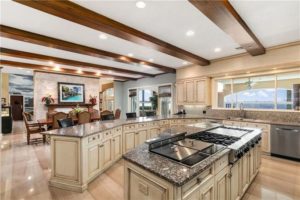 The kitchen has an L-shaped breakfast bar and chef's island. The house also comes with double refrigerators and high-end appliances. There's a double-sided stone fireplace next to the kitchen table.
O'Neal's master bedroom is 900 square feet. The room is equipped with a fireplace and a TV projector. There is also a four-room walk-in closet and his-and-her master baths attached to the bedroom. The room also has two balconies overlooking the lake.
Superman references are found throughout Shaq-apulco. The Superman logo also emblazoned on the NBA superstar's 15-by-30-foot bed and the lighting in his home theater has Superman logos.
Shaquille O'Neal even built a full-size Superman statue at the end of his dock.
Outside, there's a 95-foot-long pool that's 15 feet deep at the far end and a rock waterfall.