The $3.2 Million Rocco Mediate Mansion In Naples Is Going to Auction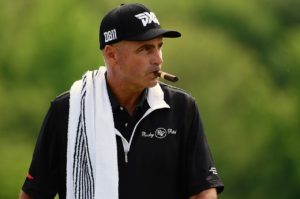 Millionaire Golfers, grab your checkbooks! The former mansion of Pro Golfer Rocco Mediate is going on the auction block. Suntrust Bank seized the 7,147 square foot home in 2014. Bidding on the home begins at 11 am on May 19th. 
Golf champion Rocco Mediate is the guy who lost to Tiger Woods on a sudden death hole during the 2008 U.S. Open. Mediate bought the property overlooking the 15th hole at Talis Park Golf Club in 2004 for $3.2 million. He lived in the two-story, Tuscan-style mansion for nearly a decade.
Elite Auctions is handling the bidding on the six bedrooms and eight bathroom mansion.
The lavish home sits on a corner lot overlooking the fairway and a pond at the edge of the property. The pond also gives the home some privacy from the golf course.
The front door opens into a dramatic double-height living room with three arched windows overlooking the home's pool and the golf course. 
The mansion also has two master suites with one on each floor. The one on the first floor opens out onto the backyard patio blooming with hibiscus plants. 
Rocco Mediate, a three-time PGA champion, lost the home to the bank in 2014. Mediate discussed his financial woes during an interview on the Golf Channel in 2013.
Mediate told David Feherty:
The house in Naples went bye-bye. Bank stuff happened there. It was a whole nightmare.
As a result, SunTrust Bank later sold the home to its current owner for $2 million. 
The owners have only made small aesthetic changes and upkeep. However, they have updated the air conditioning and added hardwood floors.
They have been trying to sell the home on and off over the past two years, listing records show.