The American Housing Time Bomb! 20% Of US Homeowners Are Struggling To Keep Up With Their Mortgage Payments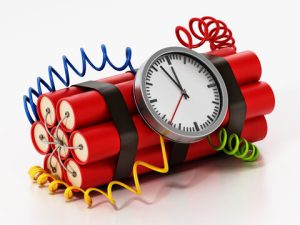 Is the American housing time bomb about to go off? 20% of US homeowners are struggling to afford their mortgage payments as a result of rising living costs. That equates to 11 million Americans.
Research agency Opinium found 38% of mortgage holders in the US will need to make budget cuts.
The survey showed 7% of Americans will be forced to sell their home if costs keep rising.
The high cost of living is due to the Federal Reserve's aggressive campaign to curb inflation
The annual rate of inflation remains stubbornly above the Fed's 2% target at 3.7%. Therefore, this is taking its toll on household budgets. 
The Federal Reserve Bank of New York had very disturbing news about the economy. The New York Fed says US household debt shot up to $17.3 trillion in the third quarter of the year.
Experts said the increase in household debt was driven by rampant credit card borrowing. Credit borrowing skyrocketed to $1.08 trillion. 
Year-on-year squeezed Americans have seen their credit card balances rise by $154 billion. This is the largest increase since the Fed started tracking data in 1999.
23% of homeowners say their mortgage payments have a major impact on their day-to-day financial decisions. 
Freddie Mac said last week that the average 30-year mortgage has dropped to 7.50%.
More Bad News For The US Housing Market
Additionally, 40% of Americans admitted they are unlikely to buy property in the next five years due to financial pressures.
A huge portion of Americans expressed doubts about ever being able to afford a home. Others said they would struggle to afford a down payment because interest rates are too high.
Somebody who bought a $400,000 home in October 2021 with a 3.09% would pay $1,621 per month on their mortgage. 
However, at today's rates the same owner would be forced to pay $2,657.00. This is an increase of more than $1,000 per month.
Read More About The Home Affordability Crisis On MFI-Miami.