Fantasies About Appearing Lifestyles Of The Rich And Famous Are Over For Miami Fraudster Caroline Weiss. Her Lawyer Michael Schlesinger Says She Owes Him $1.64 Million.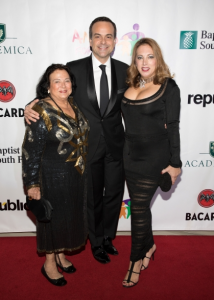 Miami fraudster Caroline Weiss can kiss any chance of her being profiled on Lifestyles of the Rich and Famous good-bye.
Why? Well, she couldn't delivering her pipe dream to develop the controversial Blue Lagoon project. 
Weiss's dream for Blue Lagoon was a disaster from the beginning. But then again, what do you expect from a woman who's only experience in real estate was watching late night Tom Vu infomercials in the early 1990s.
Now, her attorney Michael Schlesinger is claiming Weiss has an outstanding legal with him over $1.6 million.
However, Schlesinger isn't the first person to be fleeced by the silver tongued Weiss. She has also stiffed nearly a dozen Miami charities out of pledges. 
As a result, Shlesinger has filed a charging lien in the case. He claims Caroline Weiss owes him over $1.64 million for unpaid legal fees. However, it's highly unlikely, he will ever see it. 
Weiss had promised to pay Schlesinger from the proceeds of the sale of the three parcels that made up the Blue Lagoon properties.
However in 2014, Weiss' daughter Adeena Weiss-Ortiz sued her mother for fraud. Weiss-Ortiz alleges her mother committed deed fraud to steal the properties out from under her and her sister. As a result, Caroline Weiss retained Schlesinger in 2014 and he stuck by her ever since.
To compound the problem, Caroline Weiss also borrowed $21.3 million against the properties. 
Yet, through it all, Michael Schlesinger stuck by her side. Unfortunately for Caroline Weiss, all good things come to end. 
It Appears There Is No Immediate Resolution In The Blue Lagoon Lawsuit
After nine years of non-stop litigation, there does not appear to be a resolution in sight. Plus, Weiss-Ortiz also just won the latest round in the 3rd DCA. Therefore, this case could also go on indefinitely. In other words, this case has turned into one big clusterfuck. 
On top of it all, octogenarian Weiss also may not live long enough to see a resolution of the case. 
To compound the problem for Caroline Weiss, Romspen, the lender who gave her $21.3 million is now suing her for foreclosure.
In other words, Schlesinger probably realized he was wasn't going to see a dime from his client or from the Blue Lagoon development. 
So, Schlesinger in desperation, he pulled a "Hail Mary play" hoping to get paid. He filed an amended charging lien on the case in October in the amount of $1,638,089.16. In addition, the amended charging lien alleges Caroline Weiss owes $110,000.00 to attorney Geoffrey B. Marks. Marks assisted Schlesinger several appeals on the case.
Also, Check Out More Stories About Caroline Weiss And Romspen On

MFI-Miami:
Romspen Is Scamming Grandma and Grandpa
The Deceptive Romspen Loan-To-Own Toxic Financing Scam
Romspen Just Got Spanked By The Florida 3rd DCA In The Weiss Family Feud
Will A Romspen Super Lawyer Cost Romspen $21 Million?
Canadian Commercial Lender Romspen Gave 3 Colorado Stoners $54 Million
Romspen Threw In The Towel On Uphill Foreclosure Fight
Romspen Investors Are Mad As Hell And Want Their Money
Canadian Lender Romspen Is Withholding Partial Redemption Payments
Romspen Investment Corp. Sues Fake Real Estate Tycoon
Miami Developer Caroline Weiss Accused Of Multiple Counts Of Fraud
Romspen Sued For $21M In Miami Real Estate Fraud Case