Romspen Threw In The Towel To Avoid The Agony Of Defeat On Uphill Foreclosure Fight With Jetall Companies Over Houston Office 
It appears Canadian lender Romspen threw in the towel in their uphill foreclosure battle with Jetall Companies. Let's be honest. Romspen is having severe liquidity issues. They have either froze or severely reduced investor redemptions since April 2020. Thus they can't engage in a years long battle with Jetall with the possibility of getting their ass kicked.
So, why did Romspen decide to throw in the towel? They knew Jetall Companies founder Ali Choudhri has deep pockets. He also likes to fight and he was going to mount a serious challenge to block the foreclose on his own Houston office. This fight would have cost Romspen some serious coin.
Choudhri's office is the former Xerox building in the Galleria neighborhood. The building standing eight stories and spanning some 255,000 square feet of net rentable area.
The Class B office was built in 1979 and has tenants that include Uptown Fitness. It also boasts private school Xavier Educational Academy as one of it's tenants. 
The property was fully acquired via an LLC called Galleria Loop Note Holder. Galleria Loop Note Holder (Galleria Loop) lists Choudhri as the sole member in September 2019. The Harris County Appraisal District appraised at $26.7 million in January 2019.
Romspen's court documents allege Galleria Loop borrowed $18.5 million from Romspen in May 2019. The loan was to fund its acquisition of the office property through the purchase of matured liens.
Did Romspen Fail To Fulfill Their Side Of The Agreement?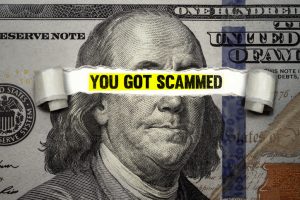 Romspen' lawyers initially filed a notice on May 16, 2023. The complaint alleges instances of default on the 2019 loan and asked for a foreclosure sale for June 6th in Harris County. However, Choudhri filed an emergency temporary restraining order against the lender on June 5th to block the foreclosure. The restraining order was granted because Galleria Loop was not properly informed of the foreclosure sale. 
The potential foreclosure is seeking $21 million. This includes the full promissory note amount plus accrued interests and late charges.
The emergency restraining order states that Galleria Loop missed payments due to Romspen's failure to fund improvements that were previously agreed upon. 
As a result of Romspen's double cross, Galleria Loop went on to "incur a significant financial shortfall and ultimately caused certain tenants to stop paying rent as a direct result of [Rompsen's] failure to fund the tenant improvements," 
The restraining order was mutually dissolved by the two parties on June 12th.
Naturally, Romspen denied the breach of contract claims. Romspen contends that it notified Choudhri, specifically his subsidiary Galleria Loop Note Holder about the foreclosure sale on May 15th. However, Romspen withdrew the foreclosure. 
Consequently, Romspen filed a new notice of foreclosure sale on June 14th. This is two days after the dissolution of the emergency restraining order.
The property was scheduled to go to foreclosure auction on July 6th. However, it appears Romspen threw in the towel and re-instated the loan to bide their time. But let's be honest, Romspen has too many problems on their hands. Namely, survival. 
Check Out These Government Websites If You Feel You Are A Victim Of Investment Fraud By Romspen.
Filing A Complaint In Canada:
Contact The Canadian Investment Regulatory Organization (CIRO) At 1.877.442.4322 For More Information. You Can Also Email Them At complaints@mfda.ca
If That Doesn't Work, Contact Deputy Prime Minister And Finance Minister Chrystia Freeland:
You Can Also Contact Her Office On Parliament Hill At 613.992.5234 Or Her Office At Her Toronto at 416.928.1451.
If You Are An American Citizen. Contact These Federal Agencies:
You Can File A Complaint With The Securities And Exchange Commission By Clicking Here.
Also, You Can File A Complaint With The Federal Trade Commission By Clicking Here
In Addition, You Can File A Complaint With FINRA By Clicking Here
Also, Check Out These Articles About Romspen On MFI-Miami:
Romspen Investors Are Mad As Hell And Want Their Money
Canadian Lender Romspen Is Withholding Partial Redemption Payments
Romspen Investment Corp. Sues Fake Real Estate Tycoon
Miami Developer Caroline Weiss Accused Of Multiple Counts Of Fraud
Romspen Sued For $21M In Miami Real Estate Fraud Case