Romspen Super Lawyer Dean Morande May Have Cost His Client Millions Of Dollars In The Weiss Fraud Controversy
Romspen Super Lawyer Dean Morande is like other self-proclaimed "Super" lawyers in South Florida.  These "Super Lawyers" all have one thing in common. They believe it makes them stand out as one of South Florida's preeminent lawyers.
But don't buy into it. It's all horseshit. Lawyers who like to brag about being a "Super Lawyer" only do so because they have a lackluster legal career.
These super lawyers also believe the public is stupid. They believe the public will buy into their bullshit. 
Attorneys also use their "Super Lawyer" bullshit to justify their outlandish fees. 
So how does a lawyer become a Super Lawyer? It's easy. Lawyers buy it. 
A lawyer pays anywhere from $500 to $2,500 to become a "Super Lawyer." It's like being in those "Who's Who listings. You pay $500 to have the "honor" of being on a list to feed your ego and look like a big shot.
In other words, most Florida "Super Lawyers" are no different than the half naked wannabe supermodels parading around Miami hoping to get noticed by talent agents. 
Romspen Super Lawyer Dean Morande Choked In Appellate Case 
As you can see in the above video, Romspen attorney Dean Morande choked in a recent 3rd DCA hearing. The hearing is the latest chapter in the Caroline Wiess/ Blue Lagoon soap opera. 
A well prepared 3rd DCA Judge Bronwyn C. Miller peppered Morande with some curveball questions he wasn't expecting. A shocked Morande gave the three judge panel a frazzled and contorted face that only happens when a guy realizes he just accidently masturbated with IcyHot.
In the video provided by the 3rd DCA, it was obvious Morande lost his focus and didn't know what to say. As a result, he may have cost Romspen $21.3 million. 
The appeal was the result of Chicago attorney Adeena Weiss-Ortiz's lawsuit against Canadian commercial lender Romspen in Miami last year.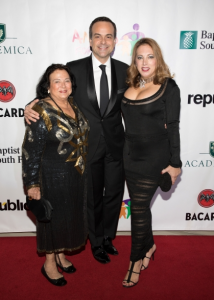 The lawsuit alleges Romspen (then known as TIG Romspen) threw $21.3 million at alleged Miami fraudster and Weiss-Ortiz's mother, Caroline Weiss $21.3 million.
The suit states that Carol Weiss acquired the loan by using three parcels of commercial land in Miami as collateral.
However, there is a serious issue.
Caroline Weiss was not the owner of the Blue Lagoon properties. Adeena Weiss-Ortiz is accusing her mother of trying to swindle these lots from her and her sister. Weiss-Ortiz also alleges that her mother then encumbered the properties with millions of dollars with liens.
The allegations against Caroline Weiss and the resulting litigation have been going on since 2014. 
Last year, Adeena Weiss-Ortiz sued Romspen for loaning her mother the money in 2020 and for putting a lien on the properties known as Blue Lagoon. Weiss-Ortiz argues that had Romspen done even elementary due diligence, they would have seen the fraud committed by Caroline Weiss. Thus any liens on the property are voidable. 
Last summer, a Miami-Dade trial court granted a Motion For Summary Judgment in favor of Romspen. This prompted Weiss-Ortiz to file an appeal with the 3rd DCA. 
Will Weiss-Ortiz prevail in her appeal? Appellate judges in Florida are master poker players. So, it hard to tell what is going on their heads. So stay tuned.
Read More About Romspen On

MFI-Miami:
Canadian Commercial Lender Romspen Gave 3 Colorado Stoners $54 Million
Romspen Threw In The Towel On Uphill Foreclosure Fight
Romspen Investors Are Mad As Hell And Want Their Money
Canadian Lender Romspen Is Withholding Partial Redemption Payments
Romspen Investment Corp. Sues Fake Real Estate Tycoon
Miami Developer Caroline Weiss Accused Of Multiple Counts Of Fraud
Romspen Sued For $21M In Miami Real Estate Fraud Case
Check Out These Government Websites If You Feel You Are A Victim Of Investment Fraud By Romspen.
Filing A Complaint In Canada:
Contact The Canadian Investment Regulatory Organization (CIRO) At 1.877.442.4322 For More Information. You Can Also Email Them At complaints@mfda.ca
If That Doesn't Work, Contact Deputy Prime Minister And Finance Minister Chrystia Freeland:
You Can Also Contact Her Office On Parliament Hill At 613.992.5234 Or Her Office At Her Toronto at 416.928.1451.
If You Are An American Citizen. Contact These Federal Agencies:
You Can File A Complaint With The Securities And Exchange Commission By Clicking Here.
Also, You Can File A Complaint With The Federal Trade Commission By Clicking Here
In Addition, You Can File A Complaint With FINRA By Clicking Here