Coral Springs Insurance Adjuster Busted In $11 Million Auto Insurance Fraud Scheme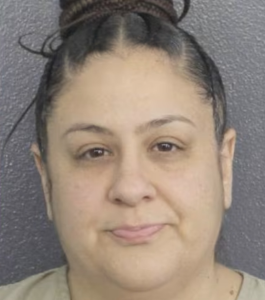 State investigators arrested a Coral Springs insurance adjuster on Wednesday. They accuse Angela Marie Augustine of being the mastermind behind a massive automobile insurance fraud scheme. 
The Florida Bureau of Insurance Fraud investigated the case. They found Augustine made 1,255 fraudulent payments to at least 326 co-conspirators in the $11.6 million hustle.
Authorities said Thursday that between December 2018 and October 2022, Augustine re-opened numerous previously closed or settled claims.
They allege she fabricated claims on auto insurance policies creating fictitious claimants. Then she documented fictitious scenarios using fake documentation. These documents used fake photographs and fake  repair estimates in order to collect liability claim payments.
She would then adjust reserves to support the false documentation. Furthermore, she would make payments on the claim in the amount matching the falsified documentation.
The co-conspirators would then cash the fraudulent insurance proceeds at a local check-cashing store. 
As a result of their probe, investigators arrested Augustine. Law enforcement charge Augustine with scheming to defraud, grand theft and criminal use of personal information.
Chief Financial Officer Jimmy Patronis told the media:
Insurance fraud is not a victimless crime. It runs up insurance rates for every motorist on Florida's roadways. It's especially disturbing when committed by a claims adjuster entrusted with sensitive financial information. I'm thankful to my fraud detectives and the Broward County State Attorney's Office for their hard work on this case and for ensuring this scam artist is brought to justice.
He added:
We will not stand by and let bad actors use your insurance policy as their personal meal ticket. They will be caught, and they will be thrown in jail.
Officials expect to make additional arrests.
Prosecutors say Augustine faces up to 55 years behind bars. 
Read More About South Florida Scam Artists On

MFI-Miami.