Former Detroit Cop Who Supervised The DPD's Integrity Unit Pleaded Guilty To Conspiring To Commit Bribery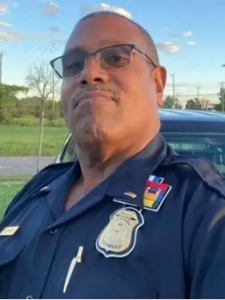 Former Detroit cop John F. Kennedy pleaded guilty Wednesday to conspiracy to commit bribery. Kennedy previously supervised the Detroit Police Department's integrity unit.
The FBI accused Kennedy of taking bribes as part of a public corruption investigation. The FBI investigation involved Detroit city government officials and the towing industry.
Federal prosecutors initially charged Kennedy with three counts of bribery and one count of conspiracy. The feds also accused Kennedy and former Detroit Police Officer Daniel Vickers of accepting cash and cars. In addition to car parts and car repairs from an unnamed person in the towing industry. In return, Kennedy and Vickers would also use their influence to help get the towing company business unlawfully.
Kennedy would persuade other officers to make tow referrals directly to a company outside the city's towing rotation. This is a violation of city ordinance.
Kennedy was a former supervisor of the Detroit Police Department's integrity unit. The unit investigated violations of the law and wrongdoings by city employees. Federal prosecutors allege the two also provided updates from the unit's case against a towing company. In return, Kennedy accepted over $14,000 in cash and other valuables as a bribe.
Conspiracy to commit bribery carries a five-year maximum prison sentence and a fine of $250,000.
Kennedy initially pleaded not guilty.
Detroit Police Chief James White said in the news release:
I'm disappointed that this officer has tarnished the badge that represents integrity and professionalism. 
Former Detroit Councilman Andre Spivey pleaded guilty to taking $35,900 in exchange for help with the city's towing regulations. Spivey was the first charged in the federal corruption investigation. The investigation also nabbed two other City Council members with ties to Detroit's towing industry. Spivey also pleaded guilty in September 2021.
Check Out Other Stories About Detroit Below:
Is Detroit Drug Dealer Jajuan Hanief Marls A Special Kind Of Stupid?
Curbside Narcotic Sales On Keating Street Is A Detroit Institution
Yet Another Detroit Land Bank Authority Property Used For Drug Trafficking
Detroit Drug Trafficking Hub Operates Out Of Former Barber Shop
Another Detroit Land Bank Property Used For Heroin And Sex Trafficking
Detroit Land Bank Owned Properties Used For Drug And Sex Trafficking