Miami Attorney Raymond Calderin Named In Libel Suit With Mugshots.com By MFI-Miami Owner Steve Dibert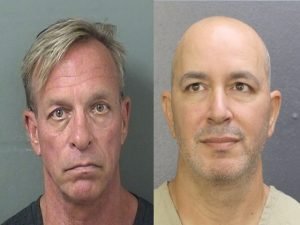 For those of you who may not know, I filed a libel lawsuit against Mugshots.com earlier this year. I have also named several people involved in writing the libelous articles about me. First is Miami attorney Raymond Calderin. Others named in the suit are Mugshots.com owners, Thomas Keesee and Sahar Sarid. I have also named the late Wayne David Collins and William Hennika as defendants.
The late Wayne David Collins was a bail bondsman. Calderin was Collins' attorney. He had represented Collins on several matters. 
Keesee and Sarid are currently under criminal indictment in Los Angeles.
Basically, the story begins in December 2019 when I began writing articles about Collins' business practices. I also began writing about his criminal activities in Connecticut (which are well documented). I also wrote about his questionable expungement of his criminal record in Connecticut.
My attorney and I allege in the lawsuit, that Collins wasn't happy about the unflattering but fact checked articles. 
As a result, Collins then allegedly conspired with the owners of Mugshots.com and others. In February 2020 they devised a plan to destroy my reputation and shut me up. We allege that Collins then recruited Calderin, Keesee, Sarid and Hennika to do just that.
Collins had a long business relationship with criminal defense attorneys, Calderin and his brother Frank Gil for years.
In 2018, the California Attorney General charged Keesee, Sarid and their Mugshots.com partners with money laundering, extortion and identity theft in regards to their activities with Mugshots.com. When the state of California extradited Keesee, Frank Gil represented Keesee at his extradition hearing. Collins put up the Keesee's bond.
Team Collins Plots Revenge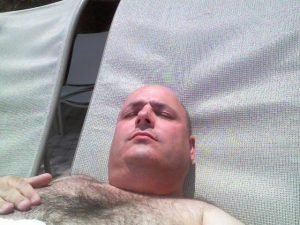 After assembling his team, Collins began using his access as a bail bondsman to law enforcement and court records. Naturally, he couldn't find anything criminal about me.
Collins could only find a meritless small claims lawsuit filed by William Hennika.
Hennika was my former roommate. He tried to sue me with some bizarre incoherent breach of contract lawsuit in Palm Beach County.
As a result, the judge tossed his small claims suit for lacking any merit.
My attorney and I allege Collins and his cohorts and along with possibly Calderin contacted Hennika.
Hennika was still reeling about losing his small claims case. As a result, he told Collins and others bogus stories about me stealing $2400 from my mysterious "landlord".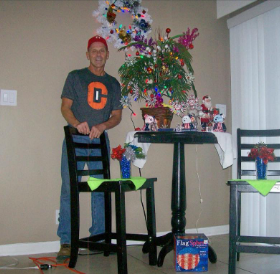 He also claimed he found crack pipes in my room after I moved out.
He also regaled Collins and company with bizarre stories of me stealing pots and pans. 
Collins then reached out to Keesee about posting the information on Mugshots.com and Keesee agreed. 
On the February 27, 2020, I received an ominous phone from a burner number. The older gentleman asked for "Russ" Hennika.
Russ is Hennika's nickname and he only allows people he's friendly with to call him "Russ." 
When I asked the caller, "What was this about?" 
He responded, "You'll find out tomorrow."
Miami Attorney Raymond Calderin's Name Shows Up In Multiple Malicious And Libelous Articles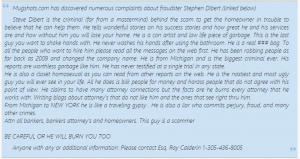 I dismissed the caller as being one of Hennika's handful of lunatic friends.
However, the caller was right. On February 28th and 29th two articles appeared on Mugshots.com about me.
Collins and company added a line at the bottom of both articles instructing people to contact Calderin:
Anyone with any or additional information: Please contact Esq. Ray Calderin 1-305-436-8005.
On February 29, 2020, my attorney at the time contacted Calderin about the February 28th and February 29th articles.
Naturally, Calderin denied any involvement. Yet, Calderin's name mysteriously disappeared from the article within an hour after the call from my attorney.
Several more articles also appeared in Mugshots.com over the following weeks. The articles claimed I was blackmailing and extorting $50,000 from Collins and other untrue and made up stories. 
You can read the complaint below: