Crackpot Millionaire Mike Lindell Told To Take Banking Business Elsewhere For Pushing Trump Conspiracy Theories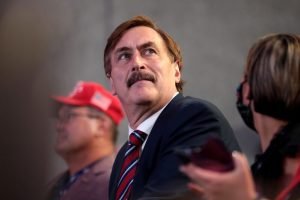 Carkpot Millionaire Mike Lindell claims that his banks want to cut ties with him. Lindell says they called him "reputation risk."
The banks see Lindell as a risk to them. Multiple companies are suing Lindell for billions of dollars for defamation.
Bank executives also don't like his wacky claims about the 2020 presidential election.
They are also afraid of the cost of dealing with Congress over Lindell's congressional subpoena. Congress wants to know about his involvement in Trump's January 6, 2021 attempted coup d'etat.
Lindell is a key promoter of Donald Trump's conspiracy theory that the last presidential election was "rigged." Lindell alleges the election was stolen from Trump in favor of President Joe Biden. However, Lindell's allegations have never been substantiated by evidence. Election experts and cybersecurity professionals have consistently debunked both Trump and Lindell's claims.
Crackpot Millionaire Mike Lindell Whines About Banking Issues On Cryptic Nazi Steve Bannon's Pod Cast
Lindell made the claim on right-wing political strategist Steve Bannon's War Room podcast. Bannon is currently under a criminal indictment for refusing to comply with a congressional subpeona. 
Lindell alleges that Heartland Financial and Minnesota Bank and Trust want to close his accounts over concerns of negative publicity to having him as a client. During the podcast, Bannon and Lindell played an audio recording that they said was a call with a bank official.
The bank employee by telling Lindell point blank he was a "reputation risk."
Lindell went on to tell Bannon that the financial institutions want him to shutter his accounts within 30 days. However, the mentally impared pro-Trump businessman insisted that he is refusing to comply:
I told them, I am not being part of this. I'm not leaving. So you're going to have to throw me out of your bank.
Bannon put the contact information of top officials at the banks onscreen. The two then pleaded with supporters to call and complain.
Lindell claims society is being persecuting him for his views.
He contended that the banks' decision was related to his refusal to comply with the congressional committee investigating Trump's January 6, 2021 attempted coup d'etat against the federal government.
Crackpot Millionaire Mike Lindell And His Wacky Behavior For Trump
The MyPillow founder is also facing a $1.3 billion defamation lawsuit from Dominion Voting Systems. Dominion is suing him for his repeated claims that the company helped steal the election for Biden. Dominion cites significant harm to its reputation as a result of his public misinformation campaign involving the company. A Trump-appointed federal court judge Carl J. Nichols already rejected a motion from Lindell to dismiss the lawsuit.
Meanwhile, Lindell continues to travel the country. He speaks at pro-Trump events promoting election conspiracy theories. Lindell pounds the podium like Adolf Hitler desepartely trying to convince people his conspiracy theories about the 2020 election are true. However, he offers no evidence.
The 2020 election results were audited and recounted more than any other election in US history. In addition, more than 60 election challenge lawsuits filed by Trump and his allies failed in state and federal courts. Even 10 judges appointed by the former president ruled against the legal challenges.
Former Attorney General William Barr asserted in December 2020 that there was "no evidence" to show malfeasance that would undo Trump's loss.
The Cybersecurity and Infrastructure Security Agency at the Department of Homeland Security described the last presidential election as the "most secure in American history.