14500 Long Islanders Are In Mortgage Default As The New York State Foreclosure Moratorium Ends Tomorrow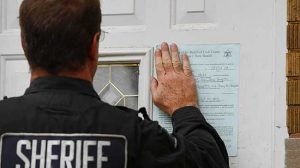 14500 Long Islanders are in some phase of foreclosure according court records. They could be forced out of their homes by the courts as early as Labor Day 2022. Homeowners need to step up their game if they are in default or in some stage of foreclosure litigation.
The days of New York state courts taking 4-5 years to foreclose and evict homeowners are a thing of the past. Courts are now moving at light speed and ramming foreclosure case through in under 9 months.
New York State offered foreclosure and eviction moratoriums as protection for homeowners. However, New York state's 2-year moratorium on foreclosures is set to expire Saturday. Court records show 14,500 Long Island mortgage borrowers are seriously behind on their mortgages or in some stage of foreclosure litigation. However, the region should be able to avoid the type of financial pain that came with the 2008 housing crisis.
The Long Island real estate market has been starved for inventory during the pandemic, with strong demand from buyers driving up prices for homes. Median home prices in Nassau and Suffolk counties hit records last summer — and remain close to those levels — and buyers have the smallest selection of homes to choose from in decades, giving a strong edge to sellers.
It's A Perfect Nightmare For 14500 Long Islanders As Real Estate Vultures Circle Overhead
Long Island homeowners facing foreclosure face even a more uphill battle than they have in the past 10 years.
As mentioned earlier, NYS courts have sped up foreclosures. Foreclosures that once took 4 years to litigate now take 6 months. However, that's not the only hurdle. Homeowners are facing the reality of having a slumlord in the White House.
Trump's attitude toward homeowners in foreclosure is the same as it is with his rental properties in Brooklyn, "Pay up or get the fuck out!" 
This sentiment has rippled down through his administration and the courts. Especially in his former home state of New York.
He has put people in consumer-friendly agencies like HUD and the CFPB in order to destroy them from within.
Housing Inventory And High Demand Are Ripe Pickings For Real Estate Vultures!
The number of homes for sale plunged by nearly 10% annually in November compared to 6.9% annually in October. Low interest-rates are increasing buyer demand.
The NAR also says the shortage of homes is accelerating.
Home values are skyrocketing. The inventory of homes priced below $200,000 dropped 16.5% in November.
Homes priced between $200,000 to $750,000 decreased 7.4% year-over-year. However, inventory valued over $1 million fell 1.7% year-over-year.
This, of course, is causing home values to increase.
This is bad for homeowners facing foreclosures. Lenders have no incentive to modify loans or work out payment options with delinquent homeowners. Why go through it when it's easier to kick the homeowner out and flip the house? Especially with judicial foreclosures averaging less than 6 months. Case closed.