Florida Bar Wants To Ban Disciplinary Actions Against Crooked State Lawyers And State Officers Who Are Bar Members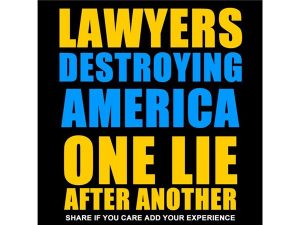 The Florida Bar wants to pull a Vladimir Putin. They want to take away your right to have a fair and honest state government and judicial system. How? They want to usurp our rights as Americans to hold our elected officials accountable for their actions. Unfortunately, they are on the verge of pulling it off.
The Florida Bar wants to immune elected officials or state officials who are Bar members from misconduct investigations. The immunity even extends to Florida Bar leadership. In other words, you go after whomever you want but not our members. 
Last time I checked, this was America. The US Constitution gives Americans the divine right to not only critize our elected officials but to hold them accountable. Florida isn't a authoratarian regime like Russia. The Florida public did not elect the Florida Bar leadership. So why are they usurping the basic tenets of our democracy and dictating policy?
Why The Florida Bar Wants This And How It Started
This all began last year when Florida AG Ashley Moody joined her Texas counterpart and other Republicans attempting to overturn 2020 presidential election results from four swing states.
As we all know these lawsuits were nothing more than fundraising scam by the GOP and Trump. As a result, the bogus lawsuits triggered an infuencial group of Floridians to flood the Florida Bar with 1,700 complaints demanding Moody be disbarred.
The effort was launched by Pam Keith, a South Florida political activist. She floated an online petition that slammed Moody for, "conduct in violation of her oath of office and in abrogation of her responsibility as an officer of the court." 
Keith's petition drive went nowhere. However, it scared the crap out of Florida Bar leadership.
As a result, the Florida Bar is rewriting a disciplinary rules to forestall any similar efforts in the future.
Florida Bar leaders may also be reacting to what is going on in Texas. Texas Attorney General Ken Paxton is under investigation for leading the charge that Moody and the others followed.
Keith told our friends at the Florida Bulldog:
That whole Texas thing was a maneuver for a partisan motive and was not any kind of pursuit of justice on behalf of the people. And for Moody to use her title and resources to engage in a purely GOP maneuver is an outrage. God forbid a Democrat had done something like this.
Florida Bar Protects It's Prominent Member Like Florida AG Ashley Moody
  "In my term as attorney general, I will never do the bidding of anyone except the people of the state of Florida," –Florida Attorney General Ashley Moody, 2019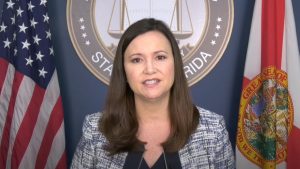 Florida AG Ashley Moody, like Governor Ron DeSantis and her predecessor Pam Bondi, is a strong supporter of Donald Trump.
So it was only natural, that a partisan hack like Moody added her name to a friend-of-the-court brief that endorsed Paxton's bogus and ludicrous attack on 2020 presidential election results and our democracy in four states. 
The court tossed Paxton's lawsuit saying it was meritless on December 11, 2020.
Right before Christmas, former Florida Supreme Court Justice Charles T. Wells expressed his "extreme disappointment" in a letter to Moody. The Orlando Sentinel reprinted:
Joining in the patently meritless case … brought discredit to your office, and results in the loss of confidence of citizens of our state and nation in the fair and competent administration of justice in Florida. It is a grave mark against your service as Attorney General which I urge you to acknowledge, and work to repair the damage you have caused," his letter says. You should do that not only because you are Attorney General. You should do that because you are a member of the Florida Bar who has an ethical obligation not to join in frivolous, meritless litigation.
Florida Bar Stonewalls Investigations Into Their Members 
Florida Bulldog writer Noreen Marcus sent AG Moody's ofice a request for comment about the complaints. Moody's spokesperson responded to Keith's petition:
The petition is simply a meritless political stunt.
Keith then tried unsuccessfully to submit her petition to the Florida Bar. The Bar refused to investigate. They claim they can not pursue dispinary actions against sitting constitutional officers. However, that didn't stop them reprimanding Congressman Matt Gaetz in 2019.
The Florida Bar found Gaetz had acted in an "unprofessional, reckless, insensitive, and demonstrated poor judgment."
The story would have ended there. Except that about six months later, in July, the Florida Bar Board of Governors approved a "clarification" to the disciplinary rule for lawyers like Moody who are state officials.
Current bar rules say nothing about subjecting state officers to investigations during their period of service to the same oversight as other lawyers.
Is The Florida Bar Acting As Private Security For Unsavory State Lawyers?
Now the Florida Bar Board of Governors proposes an amended rule to spell the rule out for the first time. The Board wants to make state official who are Bar members immune from discipline actions and criminal investigations. 
Legal experts say the Florida Supreme Court is expected to approve the change. Based on recent history, the Florida Supreme Court is expected to ram through the rule change without waiting for public comment.
Floridians should be outraged.
Pam Keith summed it up best:
The board of governors works hand in hand to protect the GOP. There is no balance in our state, there is no rule of law, there is no accountability.
A Florida Bar spokesperson responded to Keith's comment by giving their canned answer of, "our hands are tied."