Wells Fargo Busted Again! The OCC Fines Wells Fargo $250 Million For Unsafe And Unsound Home Lending Practices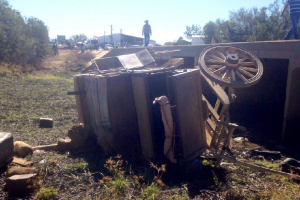 Wells Fargo busted again! The Office of the Comptroller of the Currency fined Wells Fargo $250 million. The agency is stating the bank practiced "unsafe or unsound practices" in their home lending business.
The OCC imposed the penalty on the bank for misconduct "related to material deficiencies regarding the bank's loss mitigation activities. The agency also stated some of the fine included violations of a 2018 consent order issued by the agency.
The 2018 order required the bank to take a variety of actions to account for deficiencies in its risk management program. The order included demands that the bank create a new risk management plan and forming an independent committee to evaluate its progress. The order addressed misconduct related to mortgage and auto loans, among other violations.
The OCC also issued a cease and desist order against Wells Fargo on Thursday.
The order restricts the bank from acquiring certain third-party residential mortgage servicing. The OCC order requires the bank to ensure that borrowers are not transferred out of the bank's loan portfolio until remediation is provided.
The agency said it issued the order because Wells Fargo failed to establish effective home lending loss mitigation programs. Loss mitigation is the process where mortgage lenders and borrowers seek alternatives to avoid foreclosure.
The fine comes nearly five years to the day after the discovery of Wells Fargo's 2016 fake accounts scandal. As a result of the scandal, the Federal Reserve issued an $1.95 trillion asset cap for the violations. 
The fake accounts incident rocked the banking world when it came to light. For more than a decade, hundreds of thousands of Wells Fargo employees opened millions of fake accounts in customers' names.
Also, Read More About Wells Fargo Craziness Below:
Wells Fargo Was The Willy Wonka Of Booze, Drugs & Sex
Wells Fargo Created A Decade Of Hell For Michigan Homeowner
WF Consumer Lending Chief Fired For Diarrhea Of The Mouth
The Cattiness Of Wells Fargo Executives Rivals The Ladies From Dynasty
Wells Fargo Forecloses On Old Couple Who Sold Their Home 21 Years Ago