Detroit Credit Repair Attorney Gary Nitzkin Suspended For 90 Days For Misleading Clients About Fees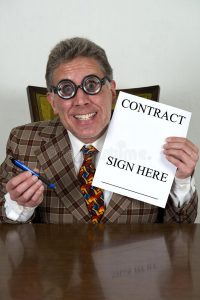 The Michigan Attorney Discipline Board has suspended the law license of Detroit Credit Repair Attorney Gary Nitzkin. The board suspended Nitzkin after they found he charged clients for credit repair services that he advertised as "free."
Gary Nitzkin must also pay nearly $20,000 in restitution to five former clients. In addition, he must pay nearly $8,000 for costs of his disciplinary proceedings. The Board is also demanding he submit his marketing materials for review and approval.
Nitzkin's law firm sues credit reporting agencies and companies on behalf of consumers. 
Nitzkin did not require clients to pay money out-of-pocket  to contract for his services.
What got him into trouble was not being upfront about his practice of taking attorney fees out of clients' settlements. The board also found Nitzkin failed to keep clients informed about pending settlement offers. Nitzkin only notified them after a settlement was done.
Nitzkin did have clients sign settlement agreements that laid out his approach to fees. However, the Disciplinary Board found that he wasn't clear about his practices in his marketing and discussions with clients.
The Board also found Nitzkin had a troubling pattern of deceiving unsuspecting and/or unsophisticated clients. Nitzkin is accused of exploiting clients who were subject to debt collection actions and/or inaccurate credit reporting. He persuaded them into signing engagement agreements with the mistaken belief that they would receive 'free' representation.
The panel also faulted Nitzkin for not acknowledging the wrongful nature of his conduct and for his lack of remorse.
Nitzkin appealed the panel's August 2020 suspension order. The order was upheld this year by the full discipline board.
Detroit Credit Repair Attorney Gary Nitzkin's History Disciplinary Actions
Nitzkin previously received four admonishments for his law practice between 1999 and 2014. An admonishment is a low-level penalty for misconduct that generally stays private. However, it can lead to more serious penalties if an attorney has any further offenses.
Michigan Consumer Credit Lawyers has removed Nitzkin's photo and bio from the firm's website. However, he still does the voice-over on the law firm's phone system saying, "A free credit lawyer. Is this even possible? It sure is, it's what we do."
The firm also removed a video, titled "Gary Promises Dad To Not Charge His Clients A Fee."
In the video, Nitzkin assures his father that he doesn't charge clients because defendants pay his firm's attorney fees and costs. 
Also, Check Out other Articles About Detroit Credit Repair Attorney Gary Nitzkin:
Credit Repair Attorney Accused Of Misleading Clients