Illegal Curbside Narcotic Sales On Keating Street In Detroit Has Become A Detroit Institution. Where Are The Police?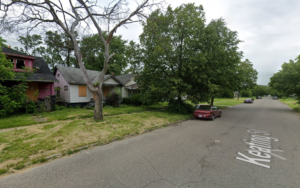 Curbside narcotic sales on Keating Street in Detroit has become a Detroit institution. These same 5-6 guys have been selling illegal drugs at this spot for nearly 7 or 8 years. Yet, why didn't former Chief James Craig do anything about it?
The dealers also make themselves pretty easy to find. Keating Street is between the elevated railroad tracks and the Family Dollar which is half way between John R and I-75. Then turn north on Keating at Seven Mile.
Then head north about 500 feet past Coventry Street on your left. Pull up to the curb on the left by the second tree and a runner will come up and ask you what you want. 
There is also a second location on Keating further to north near Emery. 
These guys offer an extensive smorgasbord of drugs. They sell everything from Boys (Heroin), Girls (Crack) and Blues (Oxycodone). They also sell Sobos (Suboxone), Xanax and everything in between.
The operation covers four to six abandoned house on each side of the street. Each house serves as warehouse for each specific drug these guys have in their inventory.  
The operation is set up so that if one house gets raided, dealers sneak inventory out the back door of one house while the cops are busy searching another.
On any Friday or Saturday night nearly 300 cars will drive down Keating Street. Dealers sell nearly $750,000 worth of narcotics on Keating Street a month. Most of the people buying drugs are white suburbanites from Oakland and Macomb Counties with deep pockets. 
Why Did Former Detroit Police Chief James Craig Refuse To Bust Up Illegal Curbside Narcotic Sales On Keating Street?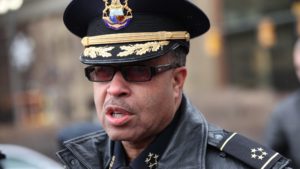 Residents and business owners say the Detroit Police have always been noticeably absent from the area. When they do patrol the area, they seem to avoid Keating Street. They also say traffic tripled after former police chief James Craig was hired as chief by the city in late 2013 and it has only grown. 
The million dollar question everyone is asking why did Chief Craig and the Detroit Police ignore the drug trafficking on Keating Street during his 8 year reign as Police Chief? 
Was it graft or police corruption? Was it incompetence? Did Craig simply not care? No one knows except for James Craig. 
Craig now wants to be Michigan's next governor and he touts his toughness on crime as chief.
Yet, he can't explain why he turned a blind eye to one of Detroit's notorious drug hot spots.
Residents also say they have tried pleading for help from District 3 City Councilman Scott Benson and Mayor Mike Duggan's office for years. They have also asked for help from the Detroit Police. Yet, no one is willing to help them. 
In addition, residents say at this point they don't care if arrests are made. They just want the drug dealers gone and more police patrols.
Also, Check Out These Other Stories About Detroit Drug Trafficking:
Detroit Drug Trafficking Hub Operates Out Of Former Barber Shop
Another Detroit Land Bank Property Used For Heroin And Sex Trafficking
Detroit Land Bank Owned Properties Used For Drug And Sex Trafficking