Shelly Petrolia Dirty Secrets Dossier Part 1: Shelly And Her DINO Trumpettes Attack Other Trumpettes For Being Trumpettes
It's time to open up the Shelly Petrolia Dirty Secrets dossier.
The public already knew Delray Beach Mayor Shelly Petrolia is a hypocrite in many ways. However, what they didn't know about was her involvement and the involvement of her key campaign people with electing former President Donald Trump.
Both Petrolia and her key campaign ally Gayle Clark were active in electing Donald Trump as President in 2016. But keep it a secret. They don't want Terrie Rizzo and the Palm Beach County Democratic Party to know that. Petrolia needs Rizzo to help her fledging re-election campaign.
Yet, Petrolia and her Democratic party allies keep barking at the wind accusing Petrolia's opponent Tracy Caruso (a former Republican) being a "Trumpette." 
So in other words, one group of Trumpettes is attacking another group of Trumpettes for being Trumpettes. 
Confused? Let me explain the politics behind it.
Tracy Caruso is married to Republican State Representative Mike Caruso. Thus, Tracy Caruso's involvement in the Republican Party politics is no big secret. 
Petrolia's track record as mayor is more in line of a lying racist grifter and mob boss than it still is a leader or a Mayor.
As a result, Tracy Caruso was the odds on favorite to win this race when she entered it and she still is. 
Therefore Petrolia is trying to play the only card she has left.
She needed to turn the non-partisan race into a partisan race. So she went crying and begging to Palm Beach County Democratic Party Chair Terrie Rizzo for help. After all, what was the point of becoming a Democratic Party member three months before running for mayor in 2017?
Rizzo's people began exploiting Caruso's involvement in the GOP like she was in some type of QAnon cultist and Trumpette. The Democrats even went as far as trying to paint Caruso as a Holocaust denier. Naturally, this blew up in Petrolia's face since Caruso's maiden name is Stein and she is Jewish.
Obviously Rizzo's people didn't do adequate opposition research on Caruso or they simply didn't care and put out there anyway. Democrats nationwide want to paint any female Republican as a Trumpette regardless if it's true or not.
Petrolia's unpopularity handicapped her campaign. So, she also had to resort to exaggeration and lies. 
However, in all the lies and distortions, Petrolia and her Democratic Party allies fail to mention the adoration both Petrolia and one of her key campaign people have for the former president.
Shelly Petrolia Dirty Secrets Files Part 1: The Truth About Petrolia Photobombing The Donald Trump Signing Ceremony
In January 2020, Petrolia attended a Mayors Conference at the East Wing of the White House. While attending the conference, word got around that President Trump was doing a signing ceremony. 
Petrolia leapt into action. She decided to seize the opportunity to try to get a picture with the President.
Petrolia bolted toward the West Wing of the White House.
As anyone who has ever been to the White house will tell you, this is not an easy task. The White House is huge and usually filled with people.
The story has it that Petrolia knocked White House staff and tourist out of her way like she was linebacker for the Buffalo Bills.
Mayor Petrolia arrived at the signing ceremony just in time to squeeze in for a photo-op. The photo-op was also filled with staunch Trump loyalists and sycophants like Secretary of State Mike Pompeo.
Petrolia likes to claim that she and 6 other mayors were invited to the signing ceremony. However, that wasn't entirely true. Petrolia crashed the event for the sole purpose of getting a photo-op with Trump that she could show to her friends.
Shelly Petrolia's Gal Pal And Campaign Advisor Gayle Clark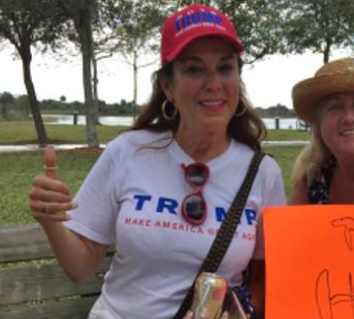 Shelly Petrolia has a group of advisors affectionally known throughout Delray Beach as the Shelly Psycho Squad. The Squad got their name because the people that make up the squad are batshit crazy sociopaths who like to post histrionic and nonsensical rants on social media.
Petrolia's gal pal and campaign advisor Gayle Clark is one of them. 
Like Petrolia, Clark is registered as a Democrat in Florida. However, unlike most Democrats, Clark and Petrolia actively campaigned for Donald Trump in 2016. 
Clark wasn't just a run of the mill Trump supporter. She was a true Trumpette in every sense of the meaning. Whenever Trump came to Florida for a rally, Clark was there dressed head to toe in her MAGA apparel. In other words a true Trumpette.
Whenever Trump supporters beat up protesters, Clark was there cheered them on. When Trump incited the crowd with cryptic Nazi rhetoric, Gayle Clark was there cheering on Trump.
Fast forward to 2021 and she's attacking Tracy Caruso on social media for supporting Trump. Then, the next minute bemoaning that she hates Caruso for abandoning Trump.
Like other members of the Petrolia Psycho Squad, Clark has quite court record. She has also used several aliases since 1987.
Clark and her ex-husband Rickey Teal had quite the animated marriage. Yes, it appears it was like a Looney Tunes cartoon or Three Stooges skit except with more bruises and broken limbs. They both filed at least a half dozen domestic assault charges against each other from 1990 through their divorce in 2014. 
Four different landlords also evicted them from 4 different properties within 11 years.