Disgraced Toilet Slave Priest Peter Miqueli Who Used Church Funds To Pay For S&M Master Found Dead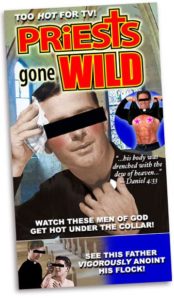 Disgraced toilet slave priest ­Peter Miqueli was found dead in his New Jersey home yesterday. Miqueli was accused of embezzling $1 million from his Bronx parish in 2015. The kinky priest used the money to pay for kinky sessions with his S&M "master"
Brick Township police said Mi­queli died at his home there but declined to provide further details.
Miqueli resigned as pastor of St. Frances de Chantal parish in Throggs Neck in 2015 amid allegations that he swiped the cash to fund his $1,000-a-pop S&M sessions with his beefcake "master" Keith Crist.
Miqueli forced Crist to break it off with his then-girlfriend Tatyana Gudin. As a result, that set off a chain of events beginning with Gudin writing letters to Cardinal Timothy Dolan in 2015. 
The sordid accusations were made in a civil lawsuit brought by parishioners.
The emails were included in the lawsuit and graphically describe how Miqueli would pay Crist to make Miqueli his "Toilet Slave." 
Gudin also explained what the relationship entailed in graphic detail:
Keith has been Father Miqueli's gay, for-pay prostitute," one of Gudin's emails to Cardinal Dolan reads. "More specifically, Father Miqueli is Keith Crist's toilet slave. If you don't know what that means, Cardinal, I will break it down for you … Keith Crist uses Father Miqueli as his toilet, and Father Miqueli drinks his piss during their weekly, 3 day get-togethers when they take off to Father Miqueli's house in Brick, NJ, far away from prying eyes.
Gudin also claimed Miqueli allegedly wore a locked Lucite chastity belt along with a dog collar during pricey sessions with his bodybuilder lover.
The Toilet Slave Priest Shelled Out Big Bucks For Golden Showers From Hunky Gay Prostitute
The scandalous lawsuit alleges Miqueli reportedly paid Keith Crist $1,000 every time he and his muscle-bound boyfriend got together for their S&M kinky gay romance. Crist allegedly demanded the priest address him as "Master" 
The lawsuit alleges the toilet slave priest and his dominant top boy-toy shared a house in Brick, New Jersey after Miqueli bought the house for $264,000 in cash in 2009.
Miqueli allegedly also used church funds to pay rent on his "master's" East Harlem apartment.
The lawsuit also accuses Miqueli of pilfering the collection plates and stealing donations. In addition, Miqueli is also accused of stealing from a parish thrift shop.
Miqueli used the stolen funds to pay for his kinky gay romance with Crist and drugs from a parishioner.
Miqueli also used the money to pay for vacations to Italy and Florida for him and Crist.
The status of the 2015 lawsuit is unclear. Online records show no filings other than the original complaint.
Neighbor Saw Non-Stop Hot Tub Parties. Did Archbishop Timothy Dolan Cover It Up?
Neighbors witnessed a daily barrage of male visitors coming (no pun intended) to the property. Crist and Miqueli had a hot tub in the back yard. There is also a new BMW allegedly belonging to Crist parked in the driveway. 
According to the New York Daily News:
Crist's on-and-off girlfriend — who says former bodybuilder/escort Crist injured his knees in a bathtub sex romp with the priest — alerted church officials earlier this year to the couple's unholy rolls in the hay.
Parishioners from Saint Francis de Chantal and Saint Francis Cabrini on Roosevelt Island filed the lawsuit. Parishioners claim the theft and misconduct had been going on for at least 10 years. The parishioners have named Miqueli, Crist, Timothy Cardinal Dolan and the Archdiocese of New York as defendants.
The lawsuit also alleges the archdiocese knew about Miqueli's sexual shenanigans and attempted to cover it up. 
Lawyer Michael Dowd who represents the two parishes told the New York Daily News:
It is unbelievable that the diocese can't come to a conclusion about the misconduct of Miqueli when there is money missing that may be a million dollars from each (parish).
Bronx parishioner Jack Lynch also told the New York Daily News:
We can't understand it. It seems they are going out of their way to protect him and for years. We suspect a scandal behind the scandal.
At the time, the Archdiocese of New York said that it hadn't substantiated any allegations that Miqueli stole church funds. However, they turned their findings over to the Bronx District Attorney's Office.
In 2017, Bronx prosecutors said their investigation found that Mi­queli swiped more than $22,450 from the St. Frances de Chantal Church. The archdiocese reimbursed the parish.
No criminal charges were ever filed.
Estranged Family of Toilet Slave Priest Doesn't Know How He Died
Miqueli's brother, Joseph, said he didn't know the circumstances behind the former priest's death. He told the New York Post:
I don't know what happened to my brother. They won't even tell me where they found him, how they found him.
The two brothers hadn't spoken in years. But Joseph always texted him on Peter's birthday, July 7. Except for this time his brother did not respond.
When reached by phone, Crist only said "I can't even speak right now" and hung up.
Also, Read More About The Toilet Slave Priest And Another Gay Priest below:
Horny Priest Loots $1M From Churches For Kinky Gay Romance
Pennsylvania Priest Pilfers Poor Box To Pay For Gay Sex