South Florida Super Lawyer James S. Benjamin Issues A Cut And Pasted Subpoena With A Diarrhea Of Fonts On Behalf Of Wayne David Collins
Lawyers here in South Florida like to brag about being a South Florida Super Lawyer. They believe it makes them stand out as one of South Florida's preeminent lawyers.
But don't buy into it. It's all bullshit. Lawyers who like to brag about being a "Super Lawyer" only do so because they have a lackluster legal career.
Lawyers also believe the public is stupid. They believe the public will buy into their bullshit. 
Attorneys will use their "Super Lawyer" bullshit to justify their outlandish fees. 
So how does a lawyer become a Super Lawyer? It's easy. He or She buys it. Hell, even dimwitted Jethro Bodine from The Beverly Hillbillies fame could become one.
A lawyer pays anywhere from $500 to $2,500 to become a "Super Lawyer." It's like being in those "Who's Who listings. You pay to have the "honor" of being on a list.
Most Florida attorneys are no different than the wannabe supermodels parading around Miami hoping to get noticed. 
South Florida Super Lawyer James Benjamin Isn't All That Super 
It seems as if having his name on his firm's letterhead isn't enough for criminal lawyer James S. Benjamin of Benjamin, Aaronson, Edinger Pantanzo, PA.
It appears Benjamin went for the trifecta of self-delusion. Not only is Benjamin claiming to be a "super lawyer," but he's also claiming to be a who's who of South Florida lawyers.
Benjamin also likes to brag about being labeled an AV Preeminent Lawyer by Martindale-Hubbell.
The Martindale Hubbell acknowledgment has slightly more credibility than being a who's who of "Super Lawyers."
All the Martindale Hubbell acknowledgment means is that other lawyers like you. 
A Martindale-Hubbell distinction is really no different than being the popular and hot high school cheerleader. She's not popular for her brains. She's only popular because she puts out for members of the football and basketball teams. 
Has South Florida Super Lawyer James Benjamin Lost His Mind?
I have never worked with James Benjamin in any of my cases. However, it appears Miami bail bondsman Wayne David Collins retained Benjamin in a personal protection order case. Apparently, Collins was allegedly hiring people to harass this individual and his wife. Yes, this is the same former FBI mob rat and slimeball bail bondsman I have been writing about over the past 6 months.
In case you forgot, Collins also likes to bully people by bragging about his bromance with disgraced former Broward Sheriff Scott Israel.
Benjamin served me a subpoena to testify at the trial. What it had to do with me, I have no idea. I think it was just an excuse by Collins to harass or intimidate me over the articles I've written about him. He hasn't figured out I'm not afraid of washed-up shanty Irish rats. 
The deranged individual who wrote the subpoena wrote it in a diarrhea of fonts and cut and pasted several different subpoenas. 
The subpoena was laughable. It was obviously not written by a "Super Lawyer." 
Maybe a "special" lawyer but not a "super lawyer."
The subpoena looked like it was written by a drunken shanty Irishman. If not that, then some graduate from some Mississippi hillbilly law school hopped up on bad moonshine. You can see it below.
Super Lawyer Sends A Frank Cannon Impersonator To Serve Me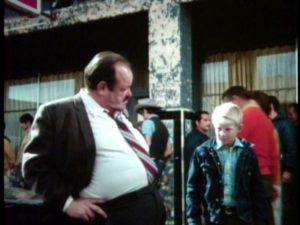 God only knows what Benjamin and Collins were thinking. No one named me as a witness in the case. I also didn't have any first-hand knowledge of the incidents. 
They also improperly served me. Florida Rules of Civil Procedure specifically say I must be served no less than 72 hours prior to the hearing.
The hearing was on Friday, May 29th. According to my roommate, some fat bald guy looking like Frank Cannon claiming to be a "Private Investigator" knocked on our front door two days prior while I was out for my morning run. 
The guy also refused to give his name or show any identification. Apparently, this Frank Cannon impersonator got his training as a PI from watching too many Law & Order reruns. 
After harassing my roommate for about ten minutes and my roommate threatening to call the cops, Frank Cannon handed him the subpoena and left.
Collins Bail Bonds License Application by stephen6dibert on Scribd