New York Real Estate Values Plummet Because Of COVID-19 And Riots! Is It Time To Escape From New York?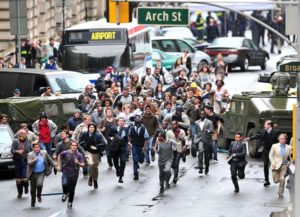 New York real estate values continue their descent into chaos! The number of real estate contracts signed for Manhattan apartments plunged 84% in May compared with last year. Experts blame shutdowns to prevent the spread of Covid-19. They also claim protests and riots created by the death of George Floyd have also contributed values plummeting.
There were a total of 160 contracts signed in May. This down from 992 in May of 2019. The number of new listings has also plummeted. New listings are down 71% to 574. It seems as if sellers are deciding to keep their properties off the market. Apparently sellers are waiting for the city to get back to normal.
One of the most expensive deals in May was a contract for the sale of a co-op on Park Avenue. The property had been listed for $6.95 million. It was sold by an owner who decided to move with his family to Scarsdale, New York.
An analysis by UrbanDigs found that while demand was down sharply in Manhattan, it increased in Westchester County in New York, Greenwich, Connecticut, and in Bergen and Monmouth counties in New Jersey.
Manhattan real estate brokers say they remain optimistic about deals once the city reopens. Brokers have been unable to show apartments or hold open houses for buyers since March. Realtors are expecting a restart showing properties again around June 22. However, that is now in question.
Until there are more deals, brokers say they won't know where prices in Manhattan will land or how much they will fall over time.
"I have a lot of people waiting to sell and a lot of people waiting to buy," said Lauren Muss, a broker at Douglas Elliman. "It's a question of when we can do business again."
Also, Check Out These Articles About New York Real Estate Values:
NY Governor Andrew Cuomo Named 2019 U-Haul Salesman Of The Year
New York City Taxes Create A Conga Line Of Businesses To Miami