Middletown Honda General Manager Stu Berkley Convicted Of Larceny And Prowling In Fort Lauderdale
Adee Motors aka Middletown Honda made a splash on the internet in April. However not in a good way. It seems as if Middletown Honda General Manager Stu Berkley's dealer mismanagement cost a Middletown Honda customer $1000.
Middletown Honda also made headlines in 2015. Former New York AG Eric Schneiderman busted the dealership for ripping off over 174 customers. 
The dealership charged customers who leased vehicles an undisclosed $500 "processing fee" when they bought their vehicles at the end of their leases. In addition, no additional services were provided for the payment of this fee. 
Customers were so irritated they started their own website for other angry Middletown Honda customers. You can check it out here.
This was all done under General Manager Stu Berkley's watch. These were only the latest of Berkley's unsavory antics. 
It seems as if Stu Berkley was destined to push his unsavory character to its limits even in his youth. It's no wonder why he became a career car salesman. 
MFI-Miami has discovered that in his youth, Berkley scoped out and stole merchandise from a Florida store. He then led Fort Lauderdale Police on a foot chase.
The fine officers of the Fort Lauderdale Police Department apprehended Berkley and charged him with 2nd-degree Larceny and Prowling.
Judge Jennifer Hilal allowed him to post a $500 surety bond ($1765 in 2020 dollars). Where Berkley came up with the big wad of cash is unknown. After posting a bond, he then hightailed back to New York and apparently skipped several court dates.
As a result, Judge Hilal issued a bench warrant. 
Is Middletown Honda General Manager Stu Berkley An Idiot?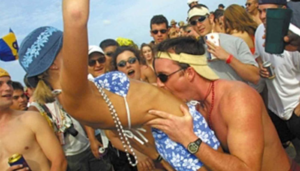 Berkley wasn't a very bright young man. He returned to Florida two years later. This time with his buddies to get drunk and get laid.
However, he didn't plan it out very well. He spent most of his trip in the Broward County jail. 
While cruising down Ocean Boulevard ogling half-naked bikini babes with his buddies from New York, Fort Lauderdale Police pulled Berkley over after they blew through a red light. 
Fort Lauderdale Police discovered Berkley had no registration and no driver's license. It wasn't long before they discovered Berkley had an outstanding warrant for his arrest. Apparently, Berkley assumed everyone forgot about that larceny and alluding police charge from 2 years before. 
He posted a second bond and hightailed it back to Queens. He never paid the fines or appeared in court. The case sat as an active file for nearly 40 years before it was closed out by the court for running past the statute of limitations in February of this year.