Ghetto Brawl Erupts Between Detroit Democrats As Pro-Trump Democratic State Rep Sues Detroit Democrats For Defamation 
Grab the popcorn! A good old fashioned political ghetto brawl has broken out in Detroit and it's going to get nasty!
Detroit State Representative Karen Whitsett has filed a federal lawsuit against the 13th District Democratic Congressional District Committee and Governor Gretchen Whitmer.
Whitsett claims the Democrats conspired to violate her right of free speech. She also alleges members of the Michigan Democratic Party conspired to destroy her character.
Whitsett claimed Whitmer and the 13th Congressional District Democrats sought to deprive her of her right to free speech.
Trouble began after Whitsett publicly thanked President Donald Trump for his suggestion of using the drug hydroxychloroquine to treat her coronavirus case back in March.
Doctors prescribe Hydroxychloroquine to prevent malaria and complications of Lyme disease.
Whitsett suffers from Lyme disease and had previously taken hydroxychloroquine as a remedy. However, it is unproven if it is a cure for COVID-19. 
As a result, Whitsett was invited to The White House to meet with Trump on April 14.
Whitsett's visit to the White House caused the Michigan Democratic establishment to go bat-shit crazy. She was eventually censured by the 13th Congressional District Democratic Party Organization led by felon and serial deadbeat Jonathan Kinloch.
State Rep's Visit To Trump White House Turns Into A Political Ghetto Brawl
Whitsett has hired attorneys Norman Yatooma and Christine L. Constantino, Jr. Whitsett claims that local and state Democrats worked to silence her free speech. 
The lawsuit also alleges Whitmer prompted the 13th District Democrats to pass the resolution. The resolution bars Whitsett from holding any position or committee membership in the group. The censure also states the organization would not endorse her in future elections.
As a result of the censure, Whitsett says she has been "ousted" by the party. She also alleges the defamation hinders her ability to do her job. 
13th Congressional District Democratic Party Organization Chairman Jonathan Kinloch said he had not been served with the lawsuit and had yet to read it when reached for comment. A convicted felon and known Detroit deadbeat Kinloch did say:
It's probably full of banter and bullcrap.
However, Kinloch also told MLive that the organization did nothing wrong. In addition he added that the legal action is an attempt by Whitsett to grab media attention.
Michigan Democrats Allegedly Start Political Ghetto Brawl To Defame Detroit State Representative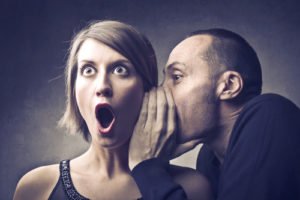 The lawsuit goes on to say Whitsett was defamed by the political organization because the censure resolution said Whitsett "Breached protocol in separately arranging meetings with and advocating to the President of the United States, Donald Trump and Vice President Michael Richard Pence, in place of Michigan's duly elected Democratic leadership and Chief Executive Officer."
Whitsett says she did not seek or arrange for any meeting with President Trump or Vice President Pence. President Trump and the White House staff invited her to the meeting.
The organization stated Whitsett endangered the health, safety, and welfare of her constituents, the City of Detroit, and the State of Michigan by appearing at a meeting with the President of the United States of America.
The lawsuit states that the 13th Democrats distributed these false statements to Democrats throughout the state.
The suit accuses Whitmer of prompting the conspiracy to publicly shame, defame and humiliate Whitsett. 
The lawsuit seeks an unspecified amount of money for damages, reimbursement for all court fees, lawyers fees, and other costs related to the case and any further relief the court deems appropriate.
Also, Check Out These Articles About Michigan Democrats:
Is Michigan Democrat Christine Greig Racist Or An Entitled Suburbanite?
Michigan Democrats Fuel Perception Democrats Don't Care About Black People
Gretchen Whitmer Aide Jonathan Kinloch Is A Convicted Felon
Michigan Democratic Party Operative Gets Probation For Embezzlement