Bank of America Executive Busted Berating Employees Who Wanted To Work From Home Over COVID-19 Fears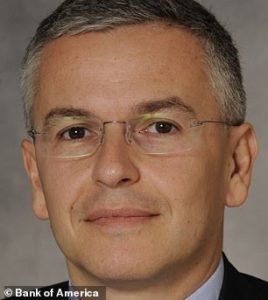 Leaked audio has revealed a Bank of America executive Fabrizio Gallo was caught berating traders who planned to work from home during the coronavirus pandemic. CNBC obtained a leaked recording of the shocking remarks. Financial experts have also called the comments cold-blooded.
The head of Bank of America's Global Head of Equities told the bank's top equity and equity derivatives traders that long-term remote work would not be an option on the March 25 conference call.
Gallo said in the recording:
Of course, we are going to entertain special cases but not the 'I don't feel comfortable, sorry.' It doesn't work that way over the long term.
At some point in time, one has to make a decision. And we cannot provide proper and orderly markets if 99 percent of the population decides they don't feel comfortable.
It appears Gallo threatened demotions or even termination for those who quickly didn't return to the office:
There's a balance there between critical mass in the office and not critical mass in the office,' said Gallo. 'If you're deemed critical and you decide to stay at home then we'll just take your access away — no problem, after a certain period of time.
I assume people when they're staying at home, they are self-quarantining? Are they going out for a walk? They're going to the supermarket? So, you can catch it at the supermarket. You can catch it at the CVS. You can catch it walking next to a person.
Ironically, North Carolina's Shelter-In-Place Order Closed Bank Of America Headquarters
Charlotte, North Carolina is the home of Bank of America's headquarters. North Carolina's governor had implemented a shelter-in-place order the day before the call. The state order orders all non-essential workers to stay at home. It is also to New York's order which went into effect on March 20. 
Financial institutions are considered essential infrastructure. However, authorities have urged anyone who is able to work from home to do so. Even the New York Stock Exchange closed its floor on March 23. NYSE traders are working remotely.
Other Bank of America executives dismissed Gallo's comments. BofA's public relations office also told the media:
We have 95% of our people working from home in the trading businesses including some of our most senior traders.
An Overachieving Executive Isn't BofA's Only Problem:
Bank Of America Alert: Can Bank of America Validate Your Mortgage?
Bank Of America Foreclosure Mill May Have Altered Mortgage Documents