Homeowner Alert: Lenders Are Using Private Investigators To Dig Up Dirt On You When It Comes Time To Foreclosure!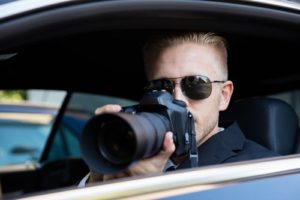 MFI-Miami has issued a homeowner alert after learning lenders are harassing homeowners in New York. Wall Street lenders are getting more and more sophisticated with their surveillance of their customers.
They are walking the thin line of invading a homeowner's privacy. New York homeowners have been contacting us and it seems as if lenders are hiring private investigators to spy on and harass homeowners. 
New York homeowners also report spotting people in trees across from their homes with binoculars. Homeowners also allege they have been tailed driving to work by "child molester" looking windowless work vans. 
One woman said a process server showed up at her place of employment to serve her with foreclosure papers. Another woman said a process server figured out where her kids went to elementary school. As a result, he followed her kids' school bus and served her when she opened the door for them.
People need to remember, bankers didn't make record profits after the financial crisis by accident. They know exactly what they are doing and have no problem gathering intel on you to keep raking in the dough. Yes, even if it is pushing into your rights to privacy. Especially now that the economy has recovered and housing values are at a 10-year high. 
Foreclosure auctions are also at a record high as investors line up to buy foreclosures due to record high home values.
All of this is being used against homeowners to make it harder for them to fight back against behemoth lenders and banks. However, you still have rights. You can turn this harassment against the lenders. You need the right foreclosure defense team to turn this into an advantage. Contact MFI-Miami or you contact Schwarz Foreclosure Defense at 888.576.2221.