Why Was Former Broward Sheriff Scott Israel Palling Around With "Mini-Me" Thug Wayne David Collins?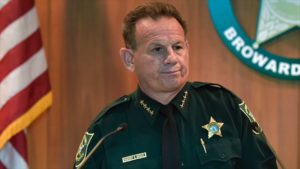 Florida Governor Ron DeSantis removed Broward County Sheriff Scott Israel within days of becoming governor. The public conscience was that it was for Israel's poor handling of school security. Israel's critics alleged that his inept management resulted in the mass shooting at Marjory Stoneman Douglas High School 11 months prior to his removal. 
However, it became clear he had a lot of scumbag friends once he was removed. Two of Israel's biggest scumbag friends were Fort Lauderdale Ponzi schemer and disbarred lawyer Scott Rothstein. Rothstein is now serving a 50-year sentence in federal prison for running a $1.2 Billion Ponzi scheme out of his Fort Lauderdale law office.
The other is scandal-prone "Mini-Me" impersonator and all-around scumbag bail bondsman Wayne David Collins.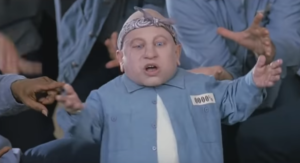 Collins even bragged to GoLocalPro in Rhode Island:
"I could get him (Israel) on the phone with you, but I won't,"
Collins also claimed he and Israel jointly coached their kids' football and baseball teams. Collins' companies also gave thousands to the Common Sense Coalition. The PAC took in $160,000 on Israel's behalf from two of Scott Rothstein's partners. Coincidently, Rothstein and his partners represented Collins and several of his businesses. 
Collins also helped raise another $13,700 for Israel from others in South Florida's lucrative bail bond industry. The scumbag bail bondsman even kicked $500 himself. 
The South Florida Bail Bonds Industry Had A Financial Interest In Getting Sheriff Scott Israel Elected And Re-Elected
The bail bonds industry has an interest in who gets elected sheriff in a local county. They don't have much interest in a sheriff or police department making high-level corruption or white-collar crime arrests. Why? Rich people usually don't have a problem posting bail by themselves.
Thus, the bond industry thrives on sheriffs arresting lower-income people for drug and petty offenses. Why? Because they need cash that they don't have and are willing to pay 10% of the bond to get out of jail. 
What is a bail bondsman? They are guys with deep pockets who post bail for people accused of crimes in exchange for a fee. Interestingly enough, we are the country that has such a system. In other countries, bail bonds operations are illegal. European countries look at agreeing to pay a defendant's bond in exchange for money is a crime akin to witness tampering or bribing a juror and is considered a form of obstruction of justice.
Bail bondsmen are insurance salesmen and social workers. In addition, they are also lightly regulated law enforcement agents and real estate appraisers. They are for all intents and purposes the for-profit wing of the American justice system.
Scott Israel Was A Thug Just Like Wayne David Collins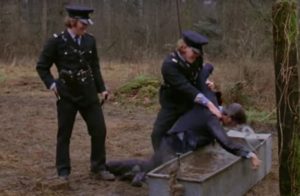 Collins' past as part of a Whitey Bolger style operation in Rhode Island was no big secret. Especially after he hightailed to Florida in 1999. Word soon spread around South Florida that Collins arrived.
So why did Scott Israel befriend such a degenerate with a history of bribing cops and ratting people out? Wannabe Sheriff Scott Israel should have known about Collins before befriending him. The only explanation is water finds it's level. 
Israel had a reputation of being a thug in a uniform when he was at the Fort Lauderdale Police Department. Israel was investigated for 10 incidents by Fort Lauderdale Police Department Internal Affairs division.
The incidents included 6 accusations of "excessive or unnecessary force", shooting at a drug suspect, and using profanity. 
Collins Exports His Thuggery From Rhode Island To Florida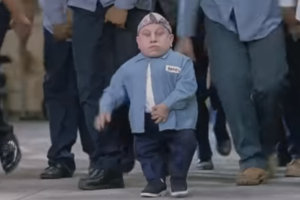 Charles "The Ghost" Kennedy alleged in a 2017 interview with GoLocalPro that former RI State Police Superintendent Steven O'Donnell ran an FBI/Whitey Bulger style operation with Wayne David Collins. This allowed Collins to commit crimes under O'Donnell and other leading police officials' supervision. Kennedy was also tied into Whitey Bolger's gang in Boston. Kennedy said in the interview:
David Collins was the prize informant of the feds, the state, and, right here in this town, with the Providence Police.
Kennedy also says Collins and top cops misused the system for the own financial and professional gain respectively:
There should be guidelines. I know where Collins tried to set me up for arrest on several occasions. I was wary of him and never trusted him. The police allowed him to commit these crimes. The dichotomy there is he's creating more crime for his own profit, from mortgage schemes to fixing cases to a phony network of police officers. I know a lot of people will dispute this, but a lot happened in those years where Collins was able to fix cases for a fee.
What Was Sheriff Scott Israel Participating In Collins Living The Thug Lifestyle?
It wasn't long before Wayne David Collins was back to his old tricks of shaking people down as he did in Rhode Island. The big question is, why hasn't the Florida AG gone after Collins? What was Sheriff Scott Israel's involvement in it?
Take the 2013 lawsuit filed by Canadian Nancy Sanchez against Collins. In 2012, Sanchez's husband Cesar Plaza was arrested in Miami. State prosecutors charged him with violating Florida narcotics laws. The court set Plaza's bond at $250,000 or 10%. Sanchez used Collins's company, Universal Bail Bonds to put up the bond. She gave Collins the $25,000 and return let Collins put a $250,000 lien on her home in Canada.
Sanchez alleged in her 2013 lawsuit that a few days later Collins informed Sanchez and her husband that he needed an additional $180,000 in collateral for Plaza's bond. Sanchez put her house for collateral with another mortgage. After closing costs, Sanchez was only able to give Collins $146,000. Sanchez was forced to borrow $22,000 from a family friend. 
Plaza's defense attorney managed to convince a Miami judge that Plaza was not a flight risk. As a result, the judge eliminated his bond an released him from jail. 
Plaza And Sanchez Allege Collins Claims He Can Make Future Indictments Disappear For $188,000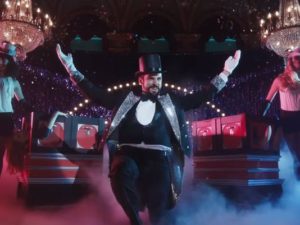 Plaza and Sanchez requested Collins return the $188,000 minus the $25,000 for the bond premium. 
Instead of returning the remaining funds, Collins concocted a scheme to keep the funds. Specifically, Collins told Plaza and the Sanchez that he had "inside information" suggesting that the federal government was going to indict Plaza on drug charges.
In addition, Collins told Plaza and Sanchez that he was keeping the remaining funds. Court documents say Collins told Plaza he was holding on to it in case the federal government indicted him.
Plaza again asked Collins to return the collateral after several months when it became clear he was not being indicted by the federal government. Instead of returning the funds, Collins told the Plaza and Sanchez that the federal government might still indict him. As a result, would retain the funds to post bond. 
Collins instilled fear in Plaza and Sanchez by claiming that the federal government might indict Plaza.
After months passed without an indictment, Plaza again asked Collins to return the collateral because Sanchez was having financial problems. Instead of returning the funds, Collins told Plaza that he would return the funds in a few weeks. Those weeks turned into months. Plaza and Sanchez allege this went on for an additional 4-5 months.
Bail Bondsman Collins Cranks Up The Bullshit. Did Collins Spend Money That Wasn't His?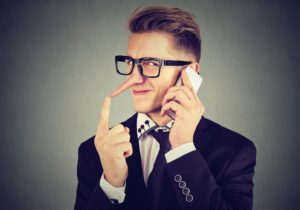 Sanchez kept demanding Collins to return her money. However, Collins continued with his delay tactics and cranked up the bullshit excuses.
This time, Collins told Sanchez that he needed to file a motion to discharge the bond in the state court. However, the state court had already discharged the bond the previous year.
Sanchez confronted the Miami Bail Bondsman and told him that she knew that the bond had already been discharged.
In response, Collins informed Sanchez that he had filed a bond with federal authorities even though the federal government never indicted Plaza. He then informed Sanchez the federal government would indict her husband if he moved to discharge the bond.
Collins Resorts To His Rhode Island Thuggery Days As He Bullies And Harasses Canadian Couple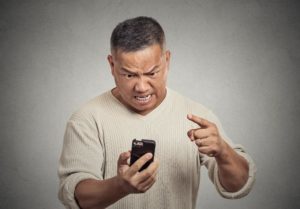 Plaza and Sanchez continued pursuing the return of the collateral. As a result, Collins resorted to his old school Rhode Island tricks. He began threatening Sanchez and Plaza.
For example, Collins told the Plaintiff that the federal government was going indict her. He also sent multiple text messages to Plaza stating that Collins was going to make sure that the federal government was going to indict him and send him to jail.
For example, in one of the many text messages, Collins writes:
"I will work with the government 2 put u away for all the harm you have caused me . . . u owe me the money I must now give your wife that I am being extorted for . . . I will see u soon in prison I promise u that."
In another text, Collins writes:
"hey I am wondering if u are coming 2 turn u and wife in or do they come and get you."
Plaza and Sanchez's lawsuit also alleges that in addition to the harassing texts, Collins repeatedly called them threatening them.
During litigation, the court ordered Collins place $185,000 into a court-mandated escrow account. The case was settled soon after.
Also, check out these articles about Wayne David Collins:
Miami Bail Bondsman Wayne David Collins Has A Secret Criminal Past
The Shakedown Tactics Of Bail Bondsman Wayne David Collins