Actor Bruce Willis Takes Massive Loss Of 42% On His Westchester Home Thanks To The NYS Mansion Tax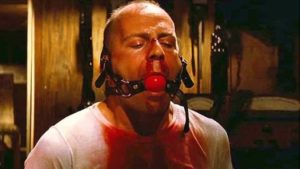 The NYS Mansion Tax is causing havoc with the luxury housing market. It's also causing Manhattan property values to plummet. In addition, it's also contributing to the mass exodus of people out of New York State. 
What is the NYS Mansion Tax? Basically, it's a VAT tax on any home selling for $1 million or more in New York State. Here's how it works according to guys at Strook.com:
New York State also imposes a "mansion" tax on transfers of residential real property including cooperative apartments for $1 million or more. Unlike the transfer tax, the mansion tax is the responsibility of the buyer. Prior to the adoption of the new legislation, the applicable mansion tax rate was 1% of the total consideration. The new legislation preserves this "original" mansion tax of 1% and imposes an additional "progressive" mansion tax on top of it. The tax amounts range from 0.25% on transfers for $2 million or more of consideration to 2.9% on transfers for $25 million or more of consideration.
The mansion tax implemented by New York City last year has caused Manhattan real estate sales to plummet by 25% since 2018.
Actor Bruce Willis Becomes Victim Of The NYS Mansion Tax
Buyers are demanding sellers to reduce the sales price to cover the cost of the Mansion Tax. The new Mansion Tax has claimed its first victim in actor Bruce Willis and his wife, Emma Heming. 
Bruce Willis and wife Emma Heming sold their 8,958 square foot Craftsman-style home in Westchester County, New York for $7.66M.
The Die Hard actor, 64, and the model, 41, initially purchased the property in 2014 for $12 million.
Willis and Henning had initially listed the home for $12.95 million in January 2019. However, they accepted 41% below the asking price.
The high-end home has five bedrooms and five-and-a-half bathrooms. It sits on a lot of 13.56 acres.
The scenic home is also accessible to the city, as the home is located about 40 miles from Manhattan.
Willis told the Wall Street Journal last year in a statement that they had intended to sell the abode after deciding 'to return to the West Coast and make a home there.'
Also, Check-Out:
The New York Exit Tax: The Anal Intrusive Tax You Must Pay To Leave NY
NY Governor Andrew Cuomo Named 2019 U-Haul Salesman Of The Year
New York City Taxes Create A Conga Line Of Businesses To Miami