Real Estate Mega-Donors Running From Trump Faster Than OJ Simpson In A Hertz Commercial.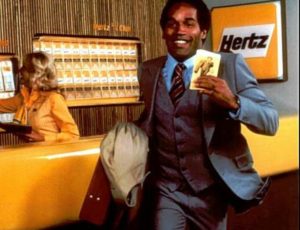 President Donald Trump should be well ahead of his rivals in donations from real estate mega-donors. They historically give to Republicans by a 2-1 margin and industries favor a candidate who's one of their own. 
Yet, it appears real estate mega-donors are running from Trump in 2020 faster than OJ Simpson in Hertz commercial.  Some find this surprising considering they've benefited from his regulatory rollbacks. Political tensions with China and the cap on deductions for state and local taxes have hit real-estate markets hard.
Cityview CEO Sean Burton told Bloomberg:
There's a lot of frustration with Trump's policies. People in California were very upset about SALT. And there's been a significant pullback of Chinese capital in real estate over the last few years.
Real Estate Mega-Donors Gave More Money To Long Shot Candidate Pete Buttigieg Than Trump
Democratic candidate Pete Buttigieg has received more money than President Trump. Buttigieg has raised $964,912 compared to Trump's $902,723 according to data from the Center for Responsive Politics.
In 2012, Mitt Romney raised $17 million from the industry to incumbent President Barack Obama's $6.6 million. George W. Bush received twice as much as both John Kerry in 2004 and Al Gore in 2000 combined.
Trump largely self-financed his primary campaign. He collected $5 million from the real estate industry for the general election.
The real estate sector has lost billions of dollars in sales as political tensions with China. Trump's China trade policy has forced Chinese investors to stop investing in U.S. housing.
The SALT cap also dampened sales of homes in expensive markets like California and New York.
The volume of Chinese property purchases nationally fell by 56%. This translates into a loss of $13.4 billion from April 2018 to March 2019. More than a third of all those transactions were in California.
Also, Check Out This Article:
Foreign Buyers Bolt From American Housing Market Amid Trump Instability