The Raunchy Realtor Part 2: Scott Adlhoch's Harem Of Whiny Women Keep Contacting MFI-Miami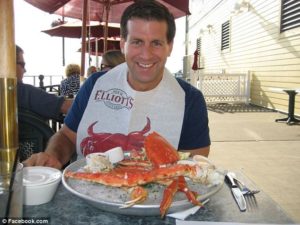 In February 2017, the Raunchy Realtor of Detroit, Scott Adlhoch was in trouble. He was facing disciplinary action by both the Michigan Association of Realtors and the Michigan Attorney General. Adlhoch let his little head do the thinking for his head. Thus, this is what got him in trouble.
He and his then mistress, Aline Ermanni were meeting up for the trysts at homes of Adlhoch's real estate clients. Unfortunately, the randy duo left more than a pair of Ermanni's panties behind at several homes. Shocked homeowners came home to find "love stains" like the Mark of Zorro in several rooms of their posh homes. 
One of Adlhoch's clients in the posh Detroit suburb of Grosse Pointe put this way, "Adlhoch put the "gross" into the Grosse Pointes"
Multiple media outlets posted the story. Once the story went viral, there was no way Adlhoch and Ermanni could contain it. Ermanni played the wounded victim and told the media her version of the Darth Vader defense. She claimed she, "was seduced by a powerful man."
The Raunchy Realtor's Women Begin Calling And Writing
MFI-Miami posted our version of the story as filler in March 2017. Our version of the events went viral for months on social media in Detroit. Why the Daily Mail version or the WXYZ version didn't go viral is beyond me. The MFI-Miami version still ranks on the first page of Google. 
The Soon-To-Be Ex-Wife Of The Raunchy Realtor Calls Me Histrionically Screaming At Me
About two months after I posted the article, I got a call from a woman with a Detroit telephone number screaming at me. She was obviously drunk because you could hear the sound of ice cubes clanging in a rock glass behind the ear-piercing sounds of her rant.
For nearly 15 minutes, this crazed woman screamed at me for nearly 15 minutes accusing me of posting filth on Facebook. She accused me of spreading lies about her family and that she was going to sue me and to expect a defamation lawsuit. Apparently, her friends at the Grosse Pointe Yacht Club were busting her chops about her husband. 
I tried to calmly (yes, I know, a rarity for me) find out who she was and what the hell she was talking about. However, that didn't work. She then resorted to a string of colorful metaphors about my mother. 
I later traced the call to Scott Adlhoch's then-wife, Jenny Adlhoch. 
The Mysterious New Wife Of The Raunchy Realtor Emails Me
I thought everyone had moved on from Scott Adlhoch playing Johnny Appleseed at the homes of his former clients. That was until August of this year. I received a mysterious email from someone named Sidra Jia. They wrote:
Hi team MFI,
can you remove this post? please 
hopes you doing good
Thanks!
I laughed. Then she bombarding me with emails. Sidra Jia later admitted in future emails that she was Scott Adlhoch's new wife and that the media coverage from 2017 was hurting Adlhoch's real estate business. She got angry when I told her it's not my fault her husband was too cheap to shell out $35.00 for a 2-hour stay at the
Bali Hotel
on 8 Mile or
De Lido
on Woodward for his trysts with Aline Ermanni.
The Former Mistress of The Raunchy Realtor Has A Lawyer Send Us A "Courtesy" Nastygram 
About a month later. I got a letter from a lawyer in Punta Gorda, Florida. The lawyer claimed she represents Aline Ermanni and "asks" me to take the article down.
The first half of the letter that you can read below, states that Ermanni has been marked with a proverbial "Scarlet Letter" because of her involvement with Scott Andlhoch leaving mysterious stains in multi-million dollar homes.
Attorney Jennifer Kreder then lectures me about "journalism ethics" and inserts a link to an editorial opinion of the Cleveland Plain Dealer.
What that has to do with me, I have no clue but judge for yourself.
Four days later, I received an email from Aline Ermanni pleading with me for the sake of her children to take the article down.
My first thought was and is, why didn't Ermanni think about this before she allowed yourself to be seduced by primal lust? Or that she would now have a reputation of a homewrecker and wear a 21st Century version of a Scarlett Letter? Yeah, Ermanni and Andlhoch fucked up. It's sad that two marriages were destroyed and Ermanni's kids have to read about her sexual adventures on the internet. It sad she and her kids can't go hang out at the country club anymore.
Hoeever, she has no one to blame but herself. she should have thought about all this before you gambled it all away over primal lust. She is as guilty as Scott Adlhoch. Armanni and Andlhoch should have shelled out the money for a hotel room for their trysts instead of defiling people's homes.
The Raunchy Realtor