SUPER BOWL LIV Tourist Warning: South Florida Drug Dealers Using Prostitutes In Multi-Million Dollar Identity Theft Ring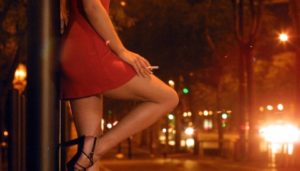 South Florida is a tourist mecca. Everyone that lives here will tell you that it's an adult playground of partying and hedonism. This makes it an ideal place for the NFL to pick South Florida time and time again for Super Bowls. Political conventions and Super Bowls also attract prostitutes from all over the world. Super Bowl LIV at Hard Rock Stadium in Miami on February 2, 2020, is no exception. 
South Florida also already has a multi-billion dollar underground sex trafficking industry. It will only double in the weeks leading up to Super Bowl LIV.
All you have to do is search "South Florida Escorts" on the web to see how large it is. Local law enforcement agencies throughout South Florida also don't seem to care. It appears they have given up cracking down on the burgeoning underground sex trafficking industry.
Apparently, the Florida judicial system and the electorate also seem to have given up on the battle against sex trafficking. After all, Miami-Dade elected sex hotel operator Marcia Del Rey to the bench in the 11th Judicial Circuit Court two years ago. 
Super Bowl LIV Tourist Warning: Fort Lauderdale And Broward County Don't Seem To Care About Your Safety
If you think that's bad, Fort Lauderdale is worse. Fort Lauderdale Police don't seem to care about much of any criminal activity going on in the city. That's probably why Fort Lauderdale is ranked as one of the most dangerous cities in America. 
That is until public outcry starts demanding it. Like when MFI-Miami created public outcry about the hordes of drug dealers and junkies trafficking drugs and harassing tourists along Federal Highway in June.
The MFI-Miami article also caused a public outcry and caught the attention of foreign governments. Foreign governments who have deep economic ties to Florida contacted the US State Department and the State of Florida. 
Their involvement pressured Fort Lauderdale Mayor Dean Trantalis and the Fort Lauderdale Police into action. The crackdown led to the arrest of nearly a dozen major drug and sex traffickers who were plaguing Fort Lauderdale.
Super Bowl LIV Tourist Warning: Prostitutes Aren't Only Stealing Your Cash. They're Stealing Your Personal Financial Information
Super Bowl LIV tourists need to take certain precautions if they plan to engage the services of a prostitute during their visit to South Florida.
South Florida drug dealers have a new scheme. Drug dealers see it as safer than selling drugs. They also see it as being more lucrative. They assume the victim is less likely to go cry to the police. The victim also won't want the public humiliation that they were picking up prostitutes. 
Here's how the scheme works.
Drug dealers use female drug addicts to prostitute themselves on websites like Megapersonals and Listcrawler. They advertise the girl's services for half of the going rate in order to attract the attention of budget conscience johns. This right here should be a warning that something is up. Alas, when a guy is letting his little head do the thinking for him, all logical thought goes out the window.
The ad usually says what the prostitute is willing to do and how they want to meet up.
The unsuspecting John calls the phone number on the ad. The phone number is usually a free VOIP number through Google Voice or through another service like TextNow that can't be tracked. The girl's pimp or drug dealer usually monitors the calls and is coaching her on what to say. 
There also a number of ways that drug-addicted prostitutes in South Florida will rob you.
Car Dates
The first is usually a "car date." Car dates are usually quicky sexual encounters that happen in, you guessed it, the car. Car dates are also the encounters that will more than likely get you robbed. However, prostitutes will usually just steal your wallet and your cash. 
Most car dates are a setup. The girl will usually bolt out of the car as soon as you give her the money. That's if you're lucky. In a few cases, as the girl bolts from the car, her pimp or drug dealer shows up out of nowhere to carjack you. However, that all depends on the type of car you're driving. If you drive a luxury car like Mercedes-Benz, BMW or Porsche, expect to be carjacked. 
Hotel Dates
If you go to the hotel that the prostitute is working out of, expect to find someone hiding in the shower or someone coming to the door with a gun. Both will wait until you are laying on the bed naked with your flag at full mast looking to rob you.
The prostitute will more than likely beat you up and rob you. The prostitute and her pimp/drug-dealer will walk away with your driver's licenses and credit cards. 
The same thing could happen if you have the prostitute come to your hotel or rental unit. However, the damage could be far worse. The prostitute could ask you to get freshened up. While you are in the other room dousing your body in Drakkar Noir she going through your desk looking for your personal information such as social security numbers, your driver's license, banking information, checkbooks, credit cards or anything else to steal your identity or money. You come out of the bathroom looking like a stud when you discover she's gone with all your personal information.
Next thing you know, your bank is contacting you about your checks being cashed and your credit cards being used in places like Minneapolis and Chicago.