AARP Launches New Fear-Mongering Campaign Warning The Elderly That Their Families Are Coming To Rob Them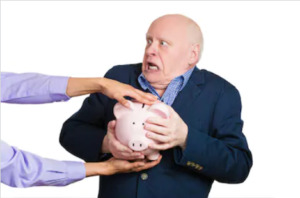 The AARP has launched a new program called BankSafe. The program is designed to teach bank employees how to spot when elderly people are being financially exploited. Most banks already have similar programs. I know JPMorgan Chase does.
What makes the AARP program different is the marketing. The AARP is using fear-mongering and scare tactics that rival the NRA or attorneys advertising on TV. Yes, the AARP is actually promoting paranoia among elderly people. The group actually wants to make the elderly believe that their family is out to rob and steal from them.
AARP Executive VP Debra Whitman told the media:
People are literally being robbed every day through scams or financial exploitation from members of their own family.
AARP Gets Gannett Newspapers To Give Their Fear Campaign Free Publicity
The AARP was able to rope Gannett owned newspapers to give them free publicity for their fear mongering marketing gimmick. Every Gannett owned newspaper had an article about the program using alarmist headlines like this one by Susan Tompor from the Detroit Free Press:
Elderly getting scammed by their own family members — and one group wants to stop it!
Tompor even starts out with some fictitious story about a 25-year trying con grandma out of $4000:
Picture this scenario at the bank: A woman walks into her branch with her 25-year-old grandson and they're ready to transfer $4,000 or so out of Grandma's account into his.
Is the grandson running a scam? And, if so, can the bank do anything to stop it? 
Tompor also cranks up the paranoia by writing:
And instances of elder financial abuse can increase during Thanksgiving, Christmas, and Hanukkah, as more family members and friends are in town. Some may be more than ready to take Grandma to lunch and, oh, make a stop at the bank. 
Tompor's article was soon blasted out across the country on Gannett's nationwide network of local newspapers.
Is AARP Exploiting The Fears Of The Elderly?
It's no secret that the United States is in the midst of an opiate epidemic. This means more addicts are financially exploiting or coercing family members for money to get their fix.
However, Little Johnny and Little Susie aren't just tugging on the heartstrings of grandma and grandpa. They are pulling those strings on everyone in the family.
But is it as bad as the AARP claims?
The report gives several examples:
A bank in Georgia reported a case involving a grandson who was cashing a string of checks from his grandfather's account. The grandson had a story relating to his own surgery. However, law enforcement ended up arresting the grandson for exploiting the grandfather and taking his money to buy drugs.
The report also claims that a Michigan credit union stopped the suspicious transfer of $10,000 from an elderly woman's account. The supervisor became suspicious and intervened. The manager took the time to speak with the woman alone away from the person she was with.
The AARP report also does not cite any sources for the stories and neither did Susan Tompor from the Detroit Free Press. So are they true? Are they simply urban legends or stories taken from Facebook memes? Who knows.
I'm not saying the exploitation of the elderly doesn't exist. It does. However, AARP is using fear as a public relations tool and raise revenue. Let's face it, the AARP is for-profit business disguised as a charity/advocacy group.
Call Your Bank Or Law Enforcement If You Think You Are A Victim Of Fraud 
Financial advisers and others are also now asking some customers for the name of a trusted person to contact if the adviser suspects their elderly client is a victim of financial exploitation.
Many consumer watchdogs and others regularly address financial exploitation.
Michigan's Elder Abuse Task Force recommends that concerned family members file a report with local law enforcement, the sheriff's department or Michigan State Police.
The Michigan Elder Abuse hotline is 800-242-2873.
You can also contact Adult Protective Services in your state.