MFI-Miami Is Here To Help Striking General Motors-UAW Members With Their Mortgage Lender During The Strike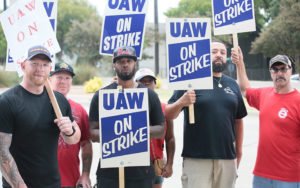 MFI-Miami is here to help striking General Motors-UAW members. I am offering MFI-Miami's services at cost to any striking General Motors-UAW members who may be having issues with their mortgage lender. We are also offering free 45 minute consultations to General Motors-UAW members affected by the strike.
For the last century, the UAW has been at the forefront of making the lives of all Americans better. It's our time to help you deal with your mortgage lender.
I want to make sure your focus is on your fight to win back the concessions you agreed to take because of the great recession and GM's bankruptcy. The last thing you need to be worrying about is a foreclosure on the horizon or your lender jerking you around. 
Believe it or not, lenders don't care that you are sacrificing to improve everyone's lives.
Lenders also don't care that you have to drive hundreds of miles to an auto plant to put food on the table for your family. They only care about getting their money and like the mafia in Goodfellas by saying, "Fuck you, pay me!" 
Lenders will stop jerking you around after I get involved. Why? Because they know better.
Lenders also know I will publicly shame them on the internet and in the media. I also have no problem humiliating their lawyers in court if they do. They also know I have no qualms about doing this because I've done it before. 
MFI-Miami has a track record of keeping people in their homes. We have also stopped lenders from committing foreclosure fraud and padding the mortgage balances of General Motors-UAW members.