Fake Movie Producers And Wells Fargo Employee Arrested For Fraud And Money Laundering In Fake Movie Scam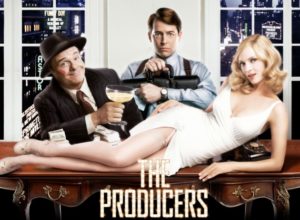 Two fake movie producers failed miserably doing their Bialystock and Bloom cosplay with their millionaire investors.
They and a former Wells Fargo Bank employee were arrested on fraud and money laundering charges. The trio of fake Spielbergs was operating a scheme to steal money from investors for movie projects. 
Federal prosecutors claim Benjamin McConley of South Florida and Jason Van Eman of Oklahoma held themselves out as film producers and financiers. 
McConley and Van Eman offered to provide financing to producers seeking to produce movies and other projects.
McConley and Van Eman told the victims that they would match the victim's contribution. In turn, they would use the combined funds to secure financing from financial institutions. 
Federal prosecutors also charged McConley and Van Eman with conspiracy to commit wire fraud. They also charged them with conspiracy to commit money laundering and money laundering.
The indictment also alleges that McConley and Van Eman entered into fraudulent short-term loan agreements with third-party lenders. The lenders gave the fake movie producers low-interest bridge loans on behalf of investors and producers.
The Fake Movie Producers Used Fake Funding Agreements
The indictment also alleges the fake movie producers also executed false and fraudulent "funding agreements."
The agreements guaranteed that the victims' cash contributions or loans would be "matched" dollar-for-dollar by McConley. McConley and Van Eman assured victims their investment would be held in a secure bank account.
Investors were assured that the funds would not be transferred without the victims' consent.
The funding agreements required McConley to deposit funds into the secure bank account immediately after the victims provided their contribution.  However, Van Eman instructed victims to transfer money to bank accounts controlled by McConley.
The funding agreements state the fake movie producers were to apply for a line of credit from the same bank using the funds in the secure bank account as collateral.
Several funding agreements required the prompt return of the funds plus interest once the bank authorized a line of credit.
The fake producers also lied to investors by misleading them about the approval of the lines of credit.
The fake movie producers also promised investments would be secured by a "performance bond." 
The duo also claimed they would pay for the performance bonds issued by a third-party insurance company.
Investors Threw Money At The Fake Movie Producers Based Fake Promises
Victims relied on the false promises of the protections in the funding agreements and performance bonds. As a result of these fake promises, victims sent tens of millions of dollars to accounts controlled by McConley.
In truth, McConley never "matched" the victims' contributions or loans as promised. McConley or Van Eman also never applied for lines of credit on behalf of victims. Neither McConley nor Van Eman paid for or otherwise secured performance bonds on behalf of victims. 
Federal prosecutors allege that McConley and Van Eman transferred funds from the purportedly secure bank accounts to their personal accounts within days of the victims' contributions or loans.
Federal prosecutors also allege McConley and Van Eman directed former Wells Fargo employee Benjamin Rafael a one-time Wells Fargo to falsely assure victims about the security of their funds. Rafael also misled victims by stating to them that their investment would be matched by the fake producers. He told them that McConley and Van Eman had applied for lines of credit at Wells Fargo when they had not.  
The indictment states that Rafael routinely sent false emails to victims from his Wells Fargo Bank email accounts. The fake producers falsely assured victims that Rafael was still a Wells Fargo employee after his termination.
McConley, Van Eman, and Rafael also created and transmitted false and fraudulent bank documents, including purported bank letters, account signature cards, and deposit account balance summaries.  
The Fake Movie Producers Begin A Ponzi Scheme To Pay For Lawsuits
McConley and Van Eman usually refused to return the victims' funds as promised in the funding agreements. As a result, several victims filed civil lawsuits and other legal actions against the fake movie producers in Florida, California, and Texas.
McConley and Van Eman continued to lure victims with false and fraudulent promises and documents even with the pending lawsuits.
McConley and Van Eman used the funds from later victims to pay earlier victims and attorneys to settle lawsuits and legal fees.
In order to conceal from the public news of the lawsuits and legal actions, McConley and Van Eman engaged an "online reputation management" firm to "suppress" information about the lawsuits.
McConley, Van Eman, and Rafael used stolen money to purchase luxury automobiles, personal watercraft, real estate, jewelry, home furnishings, designer clothes, hotel accommodations, and private and commercial air travel.
On August 19, 2019, McConley and Rafael made their initial appearances in Federal Court in Miami, Florida. Van Eman made his initial appearance on August 16, 2019, in Tulsa, Oklahoma.
The fake movie producers face up to 20 years in prison on the wire fraud conspiracy and wire fraud charges. They also face an additional 10 years in prison on each of the money laundering conspiracy and money laundering charges.
Wells Fargo Sues The Fake Movie Producers
Wells Fargo Bank NA and Wells Fargo Advisors LLC filed suit against several of the fake movie producers' entities. Those entities included Forrest Capital Partners Incorporated and Forrest Capital and Co. LLC. Wella Fargo also named Weathervane Productions Incorporated and WVP Holding LLC. They also named McConley and Van Eman individually alleging misrepresentation and fraud.
Wells Fargo alleged that they suffered damages to their businesses. The bank claims the defendants allegedly provided third parties with forged and counterfeit documents using the Wells Fargo marks and letterhead.
U.S. District Court for the Southern District of Florida, Miami Division Case number 1:16-cv-25266-CMA