19-Year-Old Detroit Punk Tries To Use Kids To Run A Candyman Scam
Troy Police arrested a Detroit man of exploiting children and larceny in what is known as a "Candyman Scam."
Davion Darrel Mitchell used three children to raise money for a fake football team. Troy Police caught Mitchell and the children running the Candyman Scam at two suburban Detroit restaurants.
Police also say Mitchell threatened a restaurant manager and stealing a woman's purse.
Troy police were called at 7:32 pm Saturday to Gran Castor at 2950 West Big Beaver Road.
The general manager of the restaurant told police Mitchell came into the restaurant with three children to try to sell candy to customers. The general manager said it's the second time Mitchell has done so.
When asked to leave, Mitchell got aggressive and threatened to fight the general manager before leaving.
Officers located Mitchell and three children walking west on East Big Beaver Road near Livernois Avenue.
Police said they spoke with Mitchell and issued him a misdemeanor citation for contributing to the delinquency of a minor. They also ticketed him for solicitation without a permit.
Police released Mitchell and the children at the scene.
The Candyman Scam Hits 2nd Restaurant Two Hours Later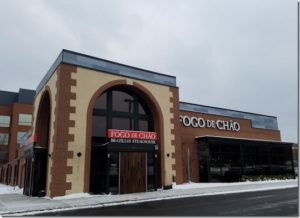 Fogo De Chao Brazilian Steakhouse down the street called the Troy Police 2 hours later.
The restaurant called the Troy Police to say a man and three children were trying to sell candy to customers. The group agreed to leave when confronted by management. However, they asked if they could use the bathroom first.
The hostess soon noticed her purse was missing from her work area.
An employee walked into the bathroom and noticed suspicious activity involving Mitchell and the children. Mitchell was in one of the bathroom stalls while the children stood outside.
Restaurant management confronted Mitchell. He abruptly left the bathroom and bolted across West Big Beaver Road.
Police found the hostess' purse inside a stall with about $40 missing.
Officers found Mitchell and charged him with contributing to the delinquency of a minor, solicitation without a permit and larceny.
Troy Police say the children admitted they don't play football. The children said the money from the candy actually went to Mitchell. The children claimed Mitchell promised them money in the Candyman scam.
Mitchell has a previous history of larceny. A Wayne County judge had found him guilty of 2 counts of larceny in 2017.