Legal Battle Brewing Between Fortis Property Group And Pizzarotti Over Leaning 58-Story Manhattan Skyscraper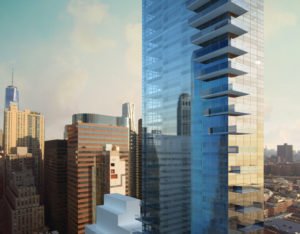 New York City is home to an eclectic mix of towers. The Bjarke Ingels Building twists and 100 Eleventh Avenue curves.  Manhattan can add a leaning tower to its portfolio. However, this time the design isn't deliberate. The skyscraper has been nicknamed the Leaning Tower of Pizzarotti.
The contractor for the 58-story skyscraper sued the tower's developer on March 22nd. The contractor, Pizzarotti claims a subcontractor discovered the building was tilting 3 inches north.
Pizzarotti also alleges that the developer, Fortis Property Group allowed for the tower to be built on a shoddy foundation. Fortis Property Group said Pizzarotti filed the suit to distract from its inability to complete the project. Both parties said they have terminated their mutual contract.
The shimmering glass structure will become downtown Manhattan's first residential skyscraper when it is finished.
The contractor alleged that the developer of 1 Seaport ignored the recommendations of a geotechnical report. The report recommended driving piles into the ground before laying the foundation.
A Fortis spokesperson said that two top engineering firms assessed the building and found no safety issue.