Miami CPA Darryl Sharpton Gets 39 Months In Federal Prison For $1.4 Million Tax Evasion Scheme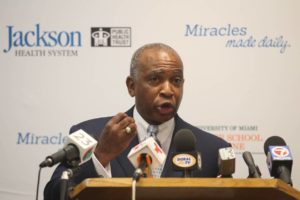 United States Attorney Ariana Fajardo Orshan for the Southern District of Florida announced Miami CPA Darryl Sharpton is going to prison for 39 months for tax evasion.
Orshan stated:
Darryl Sharpton defrauded the federal government to avoid paying his own taxes as well as taxes withheld from his employees' pay.
Internal Revenue Service-Criminal Investigation Chief Don Fort (IRS-CI) stated:
Today's sentencing is an important victory for American taxpayers who play by the rules and have no tolerance for those who fail to pay their fair share. IRS-CI will continue to investigate and recommend prosecution for individuals such as Mr. Sharpton who ignore the law and shun their tax responsibilities.
Miami CPA Darryl Sharpton Pleads Guilty
Miami CPA Darryl Sharpton pleaded guilty to willfully failing to pay federal income taxes for 2004 through 2008 and 2010. Sharpton was an owner of The Sharpton Group formerly known as Sharpton, Brunson, and Company.
The Sharpton Group specialized in financial and management consulting, audit and attestation, and tax and wealth planning. Sharpton filed personal income tax returns for years 2004 through 2008 and 2010. However, he willfully evaded payment of the taxes he owed for those years. Sharpton caused The Sharpton Group to pay his personal expenses through its corporate bank accounts. He then falsely stated to an IRS Investigator that he did not pay personal expenses from the corporate bank accounts.
The indictment also alleged Sharpton took steps to evade the IRS's collection efforts after the IRS issued levies and liens. Sharpton removed himself from The company's payroll after the IRS issued a levy against his wages in 2007. The Miami CPA also admitted to not filing personal income tax returns for 2009 and 2011 through 2016.
Sharpton also failed to pay payroll taxes for The Sharpton Group for the quarters ending December 31, 2012, through December 31, 2013. He also failed to pay payroll taxes from December. 31, 2014, through December 31, 2017.
Judge Cecilia M. Altonaga also ordered Sharpton to serve three years of supervised release and to pay $1,380,602 in restitution to the Internal Revenue Service.