Sore Loser Dan Gilbert And His Lawyers Have Joan Crawford Style Conniption Fit. They Refuse To Pay $740 Million Verdict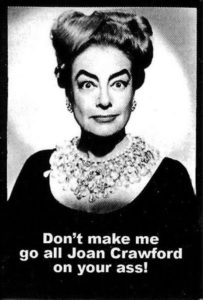 Sore loser Dan Gilbert is having another one of his over-the-top Joan Crawford style public conniption fits. It's not the first time Gilbert and his organization have had temper tantrums when Gilbert doesn't get what he wants.
He did it when Lebron James left the Cavaliers. He did it when he was busted putting security cameras on buildings in Detroit he doesn't own.
Yet, the best Dan Gilbert meltdown happened when independent media in Detroit called Gilbert out about his "I'm being bullied" and "I'm a victim of a shakedown" spin in response to the federal government's False Claims Act lawsuit against Quicken Loans. He began having a Twitter meltdown and tweeted:
I know. Ignore them. Just once in awhile you have to let the lying venom filled wannabes know that they will be held accountable. Goodnight!"
That was until a Texas jury ruled against Gilbert's Amrock Title in a software stealing case. The court found Amrock Title liable for $740 million in damages to HouseCanary. Then all hell broke loose and lawyers began claiming conspiracies.
Is Sore Loser Dan Gilbert Selling His Detroit Casino To Cover HouseCanary Legal Bill?
Gilbert is defiant in his fight with the DOJ over the False Claims Act lawsuit. However, that defiance appears to be a nothing more than a mask. He could find himself losing his billion dollar fortune.
Quicken Loans could find themselves paying a multi-billion dollar fine to the federal government. They also run the risk of losing their license to originate FHA loans. this includes their ability to originate Reverse Mortgages. Reverse Mortgages are a multi-trillion dollar market.
On top of it all, Gilbert's Amrock Title fka Title Source was successfully sued last month for $740 million for stealing trade secrets from HouseCanary.
HouseCanary attorneys stated:
Title Source and its family of companies (including Quicken Loans) wanted access to HouseCanary's technology and data to develop its own competing analytics and software.
All of this points to why Gilbert sold his Detroit casino and is looking for a buyer for his Ohio casinos. There are also rumors that the Cleveland Cavaliers will be going on the auction block soon.
Sore Loser Dan Gilbert & Company Claims There Is A Conspiracy Afoot
Amrock Title did what all other Gilbert owned companies do when they lose. They make all kinds of preposterous claims for why they lost. This time was no different. 
This week they cranked it up to the point that the excuses and claims read like something that North Korean dictator  Kim Jung-Un would broadcast. 
Amrock is now claiming that it has sworn affidavits from three former HouseCanary "whistleblowers." stating HouseCanary's case was based on fraud.
They also allege HouseCanary CEO Jeremy Sicklick conspired with the Amrock executive in charge of the initial negotiations to willfully misrepresent the capabilities of HouseCanary's products.
Amrock filed a lengthy brief that reads like a John Grisham novel. The brief claims that Amrock CEO Jeff Eisenshtadt received a packet of emails from an anonymous "whistleblower". Ironically, the packet arrived one day after the initial verdict was announced. 
Sore Loser Dan Gilbert & Amrock Unmask Their "Whistleblowers"
Amrock's revealed one of their whistleblowers in a brief filed this week. One "whistleblower" is Anthony Roveda. Roveda worked as HouseCanary's director of appraiser experience from 2015 through 2016.
Roveda and two other former HouseCanary executives claim in sworn affidavits that HouseCanary had no proprietary technology. The former executives claim the company lied to Title Source repeatedly about the revolutionary app. They also allege HouseCanary exploited its relationship with Title Source to keep the company afloat. 
Amrock is also claiming there was also collusion between HouseCanary executives and Title Source's main witness. That witness was former Title Source Vice President & Chief Appraiser Jordan Petkovski.
The three former HouseCanary employees allege Sicklick conspired with Petkovski during and after negotiations between the two companies.
The whistleblowers claim that Sicklick promised Petkovski a job and shares in the company to hide that HouseCanary provided Amrock with non-functioning software.
The whistleblowers also claim that HouseCanary paid people for their silence with hush money and bribes.
Where were these "whistleblowers" during the trial? Why did they mysteriously appear after the verdict was rendered?