Foul Mouth Manhattan Rabbi Yechezekel Wolff Sued For $21 Million For Turning Historic Synogague Into Disco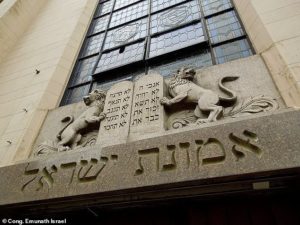 Members of the historic Congregation Emunath Israel in Manhattan are suing Manhattan Rabbi Yechezekel Wolff for $21 million. The congregants are suing the foul-mouthed rabbi for breach of contract.
Congregants accuse of renting out the 100-year-old synagogue to people who throw wild dance parties. The dance parties created such as ruckus that neighbors called the police to complain on multiple occasions.
The lawsuit also alleges Wolff ripped out old pews. He also allegedly ripped memorial plaques of Holocaust survivors off the walls because he didn't want them to spoil fundraisers. Congregants also claim Wolff turned off the heat in the winter in order to "kill off the congregation".
The New York Post says it has obtained recordings of the Manhattan rabbi telling congregants to 'go to hell' when they complained.
Wolff is heard in the recordings calling congregants 'crazy people' and dropping f-bombs:
I don't wanna know of them. I don't want to think of them. They should all go to hell.
Wolff also told the synagogue's board would 'get the f*** outta here.'
Glauber said:
A rabbi using four-letter words? I've never heard of that in my entire life.
The  New York Post reports the lawsuit was filed in Manhattan Supreme Court by five members of Congregation Emunath Israel. 
Ira Glauber, one of the plaintiffs, told the Post:
I guess having memorial plaques to dead people is not consistent with renting out the sanctuary for discotheques.