Former WFAN Host Craig Carton Convicted Of Fraud For Ticket Reselling Scam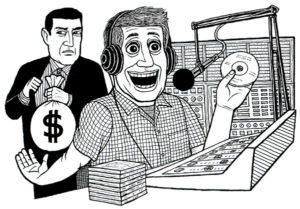 Former WFAN morning show host Craig Carton was convicted of securities fraud yesterday. 
Carton told the Associated Press:
I need to let it sink in now. I'm going to go home and hug my kids and let my lawyers deal with the rest of it.
His lawyers said they planned to appeal the verdict. the court found Carton guilty of wire fraud and securities fraud. The jury also found him guilty of conspiracy. Carton faces up to 45 years in prison.
The USAO alleged that Carton was more involved than he claimed. They presented emails between Carton and others showing his involvement in the scheme. The government also alleged Carton fabricated contracts for blocks of tickets.
Consequently, the verdict came after five hours of deliberations that began Tuesday.
Carton was former NFL quarterback Boomer Esiason's on-air partner for 10 years on WFAN's "Boomer and Carton" show. He left the program as a result of his arrest last year.
Prosecutors said he spent investor money on personal expenses including gambling debts and landscaping bills.
Carton's lawyers argued Carton was not a crook. They argued he was a victim of his former business partner, Joseph Meli.
Meli was sentenced to 6 1/2 years in prison earlier this year. Meli pleaded guilty to a $100 million ticket reselling scam.
Prosecutors said the former WFAN host had misappropriated at least $5.6 million. 
Esiason told the Boston radio team of Toucher & Rich that he was "lost and kind of a little bit heartbroken over the whole thing."