Nintendo Has Been Trying To Stop Real Life Mario Go-Kart Racing In Tokyo For Years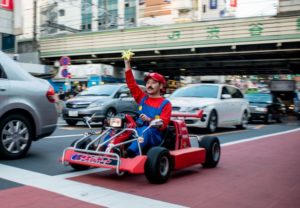 There is some epic samurai style litigation going on right now in Tokyo. Nintendo is suing a small go-kart company for copyright infringement. The go-kart company has held the video game giant at bay for nearly 2 years.
The suit revolves around the Tokyo go-kart company renting Mario franchise-themed costumes to customers so they can race around the streets of Tokyo.
The company was an especially popular service with foreign tourists. Tourists made up about 90% of its clientele. Customers only needed an international driver's license to drive the go-kart on the street.
The video game maker can finally declare victory. The owners of all things Mario prevailed in a Tokyo courtroom Thursday.
The video game giant argued that the term "MariKar" is a well-known reference to its game named Mario Kart. Nintendo lawyers also argued MariCar did not have permission to use Mario character costumes commercially. Additionally, Nintendo argued the go-kart company did not have permission to use footage and photos from Nintendo games for publicity purposes.
Mari Mobility Development was ordered to pay Nintendo 10,000,000 yen (nearly US$89,000).
Mari Mobility Development plans to review the decision before deciding its next step.
Nintendo Pulls A Bald Bull From Punch-Out
The dispute first became public in February of 2017 when the game maker issued a press release regarding the dispute.
MariKar stated that it had an agreement with the game maker that allowed its service to operate.
However, the owner of all things Mario lodged a complaint with Japan's Patent Office in September 2016.
The Office rejected the objection in January 2017. The Patent Office stated that "MariCar"/"MariKar" is not a widely used abbreviation. MariKar changed its name to Mari Mobility Development to appease Nintendo.
Oral proceedings for the lawsuit began in April 2017. Mari Mobility Development had initially argued that it was not responsible for its customer's use of costumes and go-karts. They claimed the costumes and the go-karts were provided by a third party. Mari Mobility Development was only furnishing and maintaining the go-karts.
The service appears halted, for now, barring further legal developments. Nintendo and MariCar both issued official statements summarizing the court's decision.