Anti-Semitic Fraudster Alex Jamieson Steps Down As Chester Town Supervisor After Pleading Guity To Fraud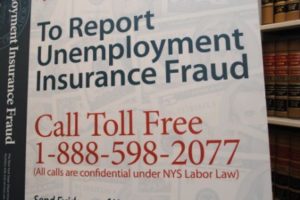 Anti-Semitic fraudster Alex Jamieson pleaded guilty of making false unemployment statements. He also agreed to resign as Chester town supervisor on or before his sentencing hearing on November 20th.
He waived his right both to a trial and an appeal at the 15-minute hearing.
New York state alleged Jamieson collected unemployment benefits while being paid as a town official.
The state charged Jamieson one count of third-degree grand larceny and 22 counts of offering a false instrument for filing. However, on Tuesday he pled to a lesser charge of only two counts of the 22 false filing charges.
The Anti-Semitic fraudster has been Town Supervisor since the beginning of 2014 and is finishing his first term. Prior to that, he was a Town Councilman. The state alleged Jamieson collected unemployment benefits after he became the town supervisor.
That lesser charge depends on his resignation as supervisor on or before his sentencing date on Nov. 20. He must also make full restitution of $5,695 at his sentencing.
Jamieson got off easy and with a slap on the wrist. He will serve no jail time and receive no probation unless he repeats the crime within one year.
Sept. 19 was the deadline for getting the supervisor's position on the ballot this November. A replacement will be named by the Town Board to fill current term which extends through 2019.
Robert Valentine is currently the deputy supervisor.
Jamieson came under fire last month for making anti-Semitic statements about keeping Hasidic Jews out of Chester.
Also, see:
Did Chester Town Supervisor Alex Jamieson Hand Chester To The Satmar?