Large Wholesale Mortgage Brokers Like C2 Financial Begin Saying, "Hasta La Vista, Baby" To Quicken Loans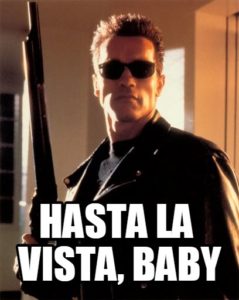 Large wholesale mortgage brokers like C2 Financial are cutting ties with Quicken Loans by the end of the week. C2 Financial General Manager Brian Kent released the company memo to the public:
As the leaders of C2 and the broker industry, we feel it is wrong for us to continue to partner with Quicken. Therefore, effective 8/15/18, C2 will no longer be working with Quicken.
Quicken Loans CEO Jay Farner told Housingwire that he was shocked by the alleged memo:
We are surprised and disappointed. That is the best way to put it.
Brian Kent essentially accused Quicken Loans of stealing clients from C2 Financial. 
Countrywide Financial used to do something similar during the housing boom. Back then, a wholesale broker would order a payoff from Countrywide. Instead of getting a payoff amount, the broker would get a call from the client claiming the Countrywide solicited them with a better deal. The broker had to two choices. Either cut his commissions or let the customer walk. 
Will More Wholesale Mortgage Brokers Say Sayonara To Quicken Loans?
The lending industry is heading into a recession. Consequently, the last thing wholesale mortgage brokers need is Jay Farner or Dan Gilbert pulling an Angelo Mozilo. So it's understandable why C2 financial told Jay Farmer, "Hasta la vista, baby!"
Ron Temko of C2 sent an email to the Association of Independent Mortgage Experts. Temko  described his personal experience with how Quicken treats homeowners:
Prior to sending out the [aforementioned] memo, I called Quicken to refinance a C2 loan. They were given three 'overt' opportunities in my conversation to refer the loan back to C2. (i.e "Should I go back to the broker who brought me the loan, or should I deal directly with you?") Each time the answer was "No, we will handle the loan.
There was no system in place nor any effort whatsoever to do that. The goal of Quicken was to secure the loan for themselves in that conversation. I believe if we had 100 of our loan officers make a similar call to Quicken for any one of their loans, all 100 calls would amount to the same result," he said. This experience codified the decision to part ways with Quicken.
Quicken told Housingwire they are working to ensure that refinances are first offered to the original Loan Originators on the loan.
Jay Farner told Housingwire that he is already seeing fallout:
While we have not yet had the opportunity to speak with management, C2's employees have been very vocal. More than 25 C2 loan officers have personally reached out to QLMS' leadership team to express their extreme frustration over this seemingly rash decision.