Princess Madeleine of Sweden And Her Family Are Moving To Florida. Is It To Flee Oppressive Swedish Taxes?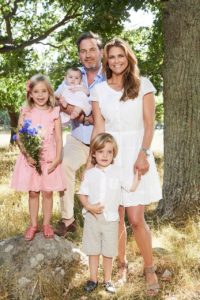 Princess Madeleine of Sweden recently announced that she and her family are moving to Florida. She is the third and youngest daughter of Carl XVI Gustaf. The current king of Sweden.
Princess Madeleine is married to American-British financier Christopher O'Neill. The couple married in 2013 and now have three children, Princess Leonore, 4, Prince Nicolas, 3, and Princess Adrienne who was born last March.
Speculation is the royal family may be moving to Palm Beach to be near O'Neill's mother. O'Neill's mother lives in Palm Beach according to The Hollywood Reporter.
The couple has been based in London and keeps a residence in Stockholm.
It may seem strange for one country's royals to live in another nation. However, both Madeleine and O'Neill have ties to the United States. They met in New York in 2010 while Madeline was working. The couple's daughter Princess Leonore was born in the United States.
O'Neill also declined Swedish citizenship when he married Princess Madeleine.
The Swedish Royal Court made the announcement last week:
Princess Madeleine and Mr. Christopher O'Neill are planning to move to Florida in the United States this autumn. The time and opportunity for the United States are good for the family while the children are still of pre-school age.
Princess Madeleine will also continue her humanitarian work with the World Childhood Foundation after the move to Florida. World Childhood Foundation helps support children who are victims of abuse and sexual exploitation.
Princess Madeleine's children may lose their royal titles. The Swedish newspaper Aftonbladet reported that the order of succession contains two requirements. One is that successors must be raised as Protestants and the other is that they have to be raised in Sweden. However, Princess Madeleine is seventh in the line of succession to the Swedish throne. So it may not matter.