Soccer Legend Diego Maradona Claims Ex-Wife Bought Miami Condos With Money She Stole From Him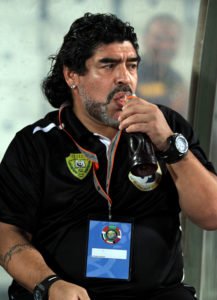 Argentinian soccer legend Diego Maradona is suing his ex-wife claiming she stole money from him.
The suit claims Villafañe began siphoning off the star's money in 1999. However, Maradona didn't learn about it until 2014 when he had his finances audited.
Diego Maradona claims his ex-wife created a network of at least five different shell companies in Florida that she used to buy real estate. The soccer legend says Villafañe flipped a few of the properties for cash. The shell companies appear to be named after Maradona and Villafañe's daughters, Giannina and Dalma.
Diego Maradonna's suit also claims that Villafañe listed the pair's 12-year-old and 10-year-old daughters as vice presidents of the various LLCs. Another LLC allegedly listed Maradona as an agent without his consent.
Diego Maradona says his ex-wife used those firms to buy millions of dollars of Miami real estate. He also claims that in 2000, Villafañe bought multiple units in Miami Beach for more than $250,000 each. Maradona claims Villafañe sold one of those units on the very same day and made $46,300 in profit. Villafañe sold the second unit a year later and again allegedly made a small profit.
In 2002, Villafañe allegedly upped the ante and shelled out $715,900 for another condo at the Murano at Portofino. The suit claims she sold that unit for $1.8 million in 2011 and pocketed the proceeds.
The pair formally divorced in 2003, but Maradona claims his then ex-wife kept buying real estate, including two units in Hallandale Beach. One for $565,000 in 2007 and another for $825,000 in 2008. He claims she bought another Miami Beach condo at the Met 1 Building in 2009.
Diego Maradona: The Man, The Myth, The Legend 
Diego Maradona is known for more for his crazy antics after retiring from soccer than he his abilities on the soccer field. The soccer legend was an infamous cocaine user, the probable friend to Italian mobsters ad the guy who got extremely drunk at the 2018 World Cup. Maradona had to be carried away by handlers at the World Cup.
Diego Maradona's post-football life has also been a bizarre one. He hosted an absurd Argentine TV talk show. He was also fired from coaching the Argentinian national soccer team.
Diego Maradona And Claudia Villafañe: Bad Break Up Or Fraud?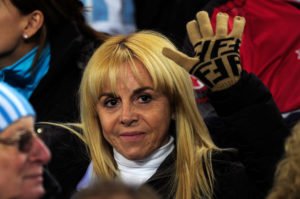 Diego Maradona first sued his ex-wife in Miami in December 2015. The first line of the lawsuit reads:
Plaintiff is universally regarded as one of the greatest soccer players of all time. From November 7, 1989, to April 15, 2003, he was married to Defendant Villafañe and entrusted her to manage his financial affairs. Following their divorce, it became clear that the defendant had embezzled and/or misappropriated millions of dollars of [his] fortune for her own use.
Villafañe responded in February 2016. She filed a blistering legal filing accusing the soccer star of punishing her out of spite:
Maradona is jealous of his ex-wife's relationship with her boyfriend. He wants to punish her by claiming that everything she owns must belong to him.
Her attorneys also added that Maradona was an informed and enthusiastic supporter of her real-estate investments. He even supported her real estate career after they divorced. That was until she found a new boyfriend.
Villafañe has repeatedly tried to have the suit thrown out. She claims the Florida courts don't have jurisdiction over alleged thefts in Argentina. However, Miami's 3rd District Court of Appeal denied that claim. They ruled that El Pibe de Oro can proceed with the suit.
Diego Maradona filed a court statement in 2016 swearing that he had no idea that Villafañe was allegedly siphoning money from his bank accounts the entire time.
Maradona noted that he was having trouble obtaining a visa to enter the United States. However, he would be happily fly to Miami to testify in the suit. He said Villafañe travels to Miami multiple times per year. He also stated Villafañe publicly complains that Maradona acts like he "owns her" because she and their kids lived off his soccer earnings.