Mick Mulvaney, the George Costanza Of The Trump Administration Is Out At CFPB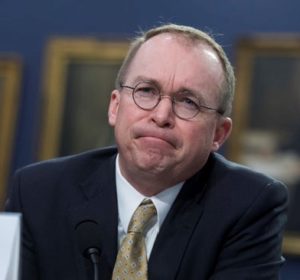 CFPB Acting Director Mick Mulvaney has stood at the helm of the bureau since November. He has run the bureau like George Costanza ran the New York Yankees on the TV show, Seinfeld. He has become an embarrassment to the Trump administration. The reality-show obsessed President Trump wants him gone.
There are also a few factors making it easier for Trump to kick Mulvaney to the curb like a prom night dumpster baby.
The acting director can only serve for six months unless there is another candidate going through the nomination process. Trump has a deadline of June 22, 2018, to name a new director.
Mulvaney recently told Bloomberg he was informed by the administration that it plans to nominate a permanent director next week.
White House insiders say the President is expected to name National Credit Union Administration Chairman Mark McWatters as the permanent director on June 22, according to an article by Kate Berry for American Banker.
However, Bloomberg is reporting that retiring GOP Congressman Darrell Issa is also on the short list of candidates.
Mulvaney has made the most of his time at the CFPB spending taxpayer money on frivolous matters and "busy" work. He changed the name of the CFPB to the BCFP. BCFP stands for "Bureau of Consumer Financial Protection." However, websites and letterhead still say CFPB.
Mulvaney also limited consumer information to investigations and dissolved two consumer study groups.
Mulvaney had one single accomplishment. He fined Wells Fargo $1 billion for bank fraud. However, he did it after being threatened by the President. The nomination of McWatter or Issa could take up to six months.