ForSaleByOwner.com Domain Bought By Quicken Loans Owner Dan Gilbert For An Estimated $3.2 million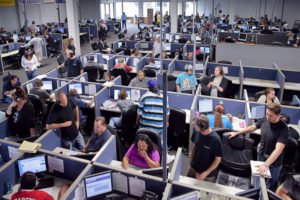 In-House Realty has purchased ForSaleByOwner.com an estimated $3.2 million. In-House Realty is owned by Rock Holdings. Rock Holdings is also the parent company of Quicken Loans and One Reverse Mortgage. Dan Gilbert of Quicken Loans fame owns Rock Holdings.
ForSaleByOwner.com is a real estate website that allows homeowners to market their homes without a realtor. 
Rock Holdings has not disclosed a sale price. However, several domain valuation websites estimate the site's value at $3.2 million. The site's value has jumped by 10 times since February when the site was only valued at $328,000.
It seems like In-House Realty CEO Doug Seabolt like throwing around Dan Gilbert's money. The only way for the value to jump that high that quickly is if In-House paid overpaid for the site. So why would In-House Realty and Rock Holdings pay 1000% more for a site than it was actually worth?
The purchase of ForSaleByOwner.com appears to be part of a grand scheme by Dan Gilbert to create a monopoly for all thing real estate. In-House Realty is a digital platform for matching consumers with real estate agents.
Yet, ForSaleByOwner.com allows consumers to bypass realtors altogether. In-House Realty's acquisition of the site is bad news for consumers. Consumers will no longer be able to market their homes without a realtor. Rock Holdings will also be able to bombard them with solicitations from other Gilbert owned companies.
This acquisition also marks the fourth fintech acquisition for Rock Holdings in under 18 months.
Rock Holdings acquired LowerMyBills.com and ClassesUSA.com from Core Digital Media.
In-House Realty CEO Doug Seabolt told Housing Wire:
We are in relentless pursuit of eliminating the complexities and stress that can sometimes accompany buying or selling a home.