New York State Courts Just Made New York Evictions Easier For Lenders To Kick Homeowners Out Of Their Homes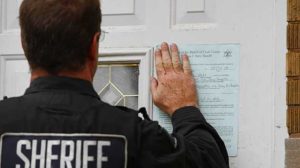 NYS courts have made New York evictions easier for lenders and landlords. Lenders are overjoyed they no longer need to prove deed ownership to the tenant during an eviction.
New York attorney Peter Roach wrote a great blog on it on his website.
The NYS Courts had held that a post-foreclosure eviction a copy of the deed needed to be exhibited to the occupant.
However, the meaning of "exhibiting the deed" has been one of great debate.
The court held in Home Loan Services v. Moskowitz that attaching a copy of the deed to a 10-day notice to quit served by "nail and mail" was insufficient to satisfy the requirement of the exhibition of the deed.
This left lenders in a very difficult position. An occupant could simply avoid in-hand service. They would have a defense. Furthermore, it keeps the lender in the dark of who is occupying the property. Thus, leaving the lender the expense and time-consuming task of doing hand/personal service.
The very same court overturned Home Loan Services v. Moskowitz earlier this month. The court ruled in Plotch v. Dellis:
Service by means other than personal delivery of a certified copy of the deed, i.e., service of a certified copy of the deed which is left at the premises for the respondent to retain and examine, satisfies the exhibition requirement.
The Court has determined that service by nail and mail service is satisfactory for commencing a post-foreclosure eviction. Lenders can simply nail or mail a copy of the deed with the notice to the door.